FARMINGTON HILLS, Mich. -
What can be found on Rensellear Street in Farmington Hills could be called a bit of a miracle.
On Monday, there was a vacant lot sitting in the middle of the neighborhood. What can be seen now is a labor of love for a local family, and the entire neighborhood.
A time lapse video shows how quickly the new home rose from the ground. Volunteers from a group called Life Remodeled used donated materials and made something very special for Brad Goddard, whose family lives in a nearby apartment.
Watch: Time lapse video of Life Remodeled building home
"You could always have a place to stay, but this gives us a home someone can't take away no matter how tough things get," Goddard said.
Brad Goddard suffered a back injury four years ago while working on a construction site. His surgeries have not staunched the pain. Goddard thought nothing could solve his financial crisis. His daughter summed it up while looking at her new home under construction.
"That my room's gonna have a window that's not going to be broken," Maeli Sue Goddard said.
The work crew is not just building the house, it is helping rehabilitate other homes in the neighborhood. Pastor Chris Lambert, of Ecclesia Church, runs the program.
"We're changing a family's life and we're also changing this community around us," he said. "We're fixing people's homes. We've fixed about 40 different homes now."
But Brad Goddard's appreciation of a gift like this is the focus on Friday.
"It's hard to wrap our mind around it, you know, we still can't believe this is happening for us, and we're just really thankful for everybody that's been involved," he said.
Life Remodeled expect to finish construction of the house on Saturday. They will have a ceremonial handing over of the keys on Sunday, after everyone involved gives thanks.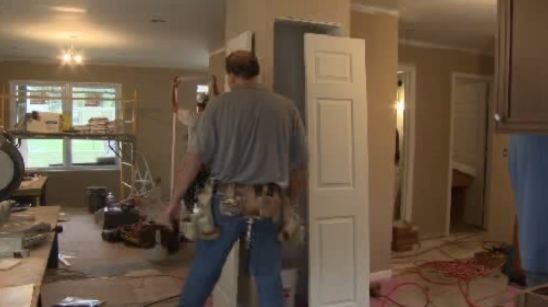 Copyright 2012 by ClickOnDetroit.com. All rights reserved. This material may not be published, broadcast, rewritten or redistributed.