3 Michigan football players emerging as true weapons in passing attack
Shea Patterson has completed 43 passes to top 3 targets
ANN ARBOR, Mich. – Michigan football is five games into the 2018 season, and after a fourth straight victory last weekend, it has the exact same record as a year ago.
But this season has a much different feel. Last year's Michigan team lost its fifth game to Michigan State because of a dormant passing attack. Despite wins over Florida, Cincinnati, Air Force and Purdue to start the year, the offense never quite clicked.
In 2018, Michigan started with an ugly loss before getting on a roll, beating its next three opponents by a combined score of 150-33 and surviving at Northwestern.
The biggest difference between Michigan's two paths to 4-1 has been the passing game.
Last season, Michigan's passing game was among the worst in the country. With 171.2 passing yards per game, the Wolverines ranked 111th in the country. Michigan finished the season with a 53.5 percent completion rate and more interceptions than passing touchdowns.
The quarterbacks took the brunt of the blame, and deservedly so. Shea Patterson has stabilized the position for Jim Harbaugh and revealed what Michigan was missing under center.
But the weapons around the quarterback were also an issue last year, as Michigan's leading receiver had 307 yards and Sean McKeon led the team with 31 catches and three receiving touchdowns.
Multiple players will shatter those numbers in 2018. Even with the team's No. 1 receiver, Tarik Black, sidelined by injury, Patterson has built a particularly strong bond with three of his targets.
WR Donovan Peoples-Jones
Season stats: 17 catches for 183 yards and four touchdowns
When he committed to Michigan out of Cass Tech High School in Detroit, Peoples-Jones was one of the most highly regarded receivers to arrive in Ann Arbor. The former five-star recruit and No. 1 receiver in the 2017 class is the ninth-highest recruit to go to Michigan since 2000, according to 247 Sports.
He showed flashes of that ability as a true freshman, but caught just 22 passes for 277 yards in 13 games.
This season, Peoples-Jones is Michigan's most targeted receiver and leads the team in catches as a result. When Michigan needs to move the sticks, Peoples-Jones is a go-to guy, as he's picked up nine first downs on his 17 catches.
The sophomore broke out against SMU, catching four passes for 90 yards and three touchdowns. He returned a punt for a touchdown the following week against Nebraska.
Peoples-Jones only caught two passes for 14 yards against Northwestern, but he also picked up 25 yards on his only rushing attempt to get Michigan inside the 5-yard line on its first scoring drive.
Peoples-Jones is the most athletically gifted receiver on Michigan's roster, and his versatility allows Harbaugh to put him in position to impact the game in multiple ways.
WR Nico Collins
Season stats: 13 catches for 214 yards and one touchdown
The receiver who's made the biggest leap in production this season is Collins, who stepped into a starting role with Black out and became a lethal downfield threat.
Collins caught three passes for 27 yards last season as a true freshman, but he was only getting his feet wet as a college receiver.
He was thrust into a larger role this year, and he's responded by leading the team in receiving yards.
Collins is the downfield target the Wolverines lacked in 2017, averaging 16.5 yards per catch. He's made five catches for at least 15 yards and three catches for at least 25 yards.
Patterson loves to target Collins on early downs, as 10 of his 13 catches have come on first or second down. Collins is often targeted when Michigan tries to pick up the tempo on offense, as his six catches on first down this season have gone for an average of 28 yards.
At 6-foot-4, 218 pounds, Collins is a tough matchup for cornerbacks.
TE Zach Gentry
Season stats: 13 catches for 194 yards and one touchdown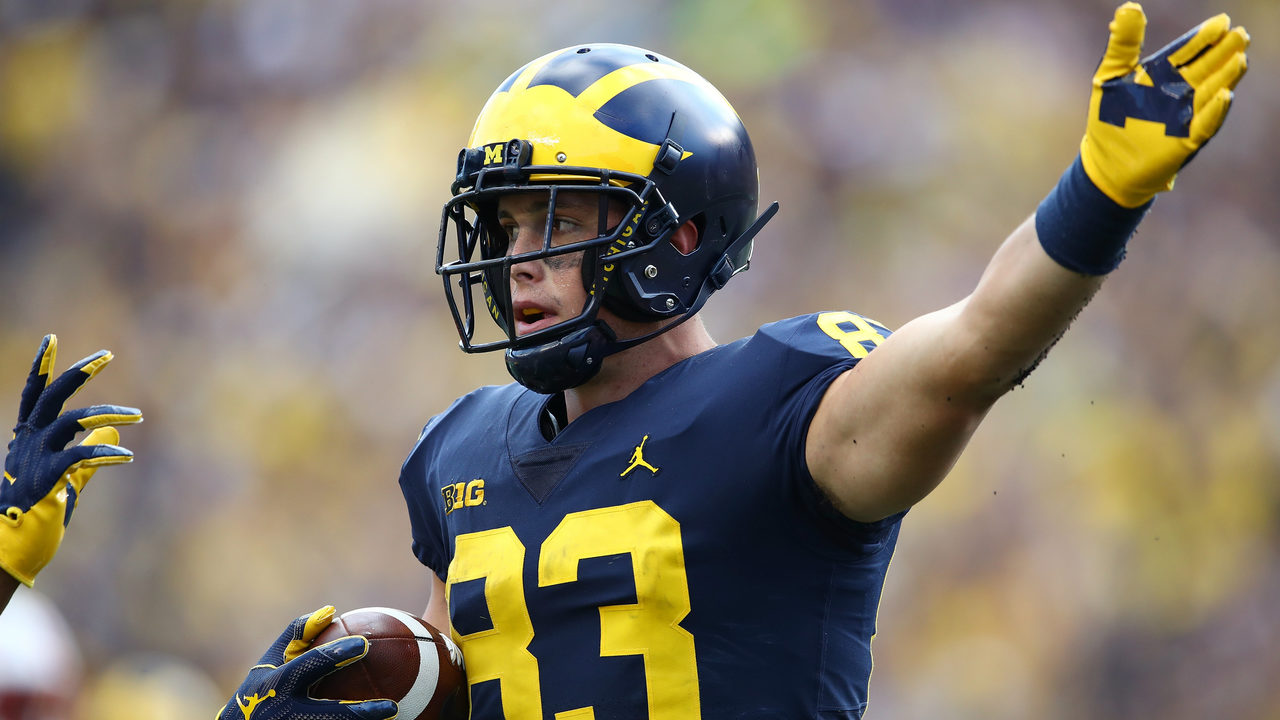 Harbaugh took some heat for turning the former four-star quarterback recruit into a tight end, but once again he proved he knows what he's doing.
Gentry is part of a roster loaded with highly rated tight ends, but he's emerged as the No. 1 option in the passing game. He's got the biggest frame at 6-foot-8, 262 pounds, but that hasn't hurt his ability to run routes and make difficult catches.
Gentry is the only player on the team that Patterson will look to before Peoples-Jones for a first down. He's moved the chains 10 times this season and averages nearly 15 yards per catch.
He hasn't developed into a true red zone target yet, but Gentry's frame and ability to win a jump ball should help him find the end zone more often in the future.
Gentry has been good in the clutch for Michigan, as more than half of his catches and 123 receiving yards have come with the team tied or trailing. It was the same story last season: When the Wolverines were trailing, they often looked to Gentry for a big play.
Reinforcements
Peoples-Jones, Collins and Gentry have combined for 43 of Michigan's 84 catches this season, but there are a few other solid options.
McKeon is still a reliable target in the short passing game, though he dropped a long pass in the Northwestern game. He's been passed by Gentry in the pecking order, but his 31 catches in 2017 can't be forgotten.
Fellow tight end Nick Eubanks chipped in with a pair of catches for 45 yards against Northwestern -- two plays that were critical to Michigan's comeback win.
Grant Perry and Oliver Martin aren't as involved in the offense out of the slot, but they've combined for 16 catches through five games.
When Black returns, Michigan will add a fourth target to its top tier, and as Patterson becomes even more comfortable, there's hope for this year's passing attack.
/**/
Copyright 2018 by WDIV ClickOnDetroit - All rights reserved.
---
About the Author: