ANN ARBOR, Mich. – Jim Harbaugh has become known for many things throughout his coaching career, including his off-the-field quirkiness, the occasional sideline blowup and his love of the fullback.
He's also developing a reputation for making major position switches -- successful ones, at that.
Harbaugh has recruited several players to Michigan over the last four years, and more than a handful are playing completely different spots.
It hasn't always worked out. Harbaugh's desire to switch A.J. Dillon to linebacker cost Michigan one of the nation's top running backs. James Hudson switched to offensive line and transferred before he could see the field.
But as Michigan eyes a Big Ten championship and College Football Playoff berth, there are several players contributing after switching positions after high school or even midway through their college careers.
Here's a look at five players who have switched positions and are finding success.
Chase Winovich
Position change: From linebacker to tight end to defensive end
It seems only fitting that Michigan's best player is a former backup who couldn't find a home on offense or defense. That definitely plays into why Winovich approaches the game with a chip on his shoulder, dubbing Michigan's season the "revenge tour," and never takes plays off.
In high school, Winovich was a four-star outside linebacker, the No. 24 player at the position nationally. He redshirted his first year and got moved to tight end in 2015 when Harbaugh arrived in Ann Arbor.
He moved back to defense in 2016, this time at defensive end. In 13 games, he recorded 35 tackles and 9.5 tackles for loss. He exploded last season, tallying 79 tackles and 18 tackles for loss.
Now, Winovich is the leader of the No. 1 total defense in the country, posting 51 tackles, 12 tackles for loss and four sacks through 10 games. Even when he's not getting tackles in the backfield, Winovich is rushing the quarterback and forcing the offense into mistakes.
A guy who once couldn't find a home on either side of the ball will now be an early-round NFL draft pick at defensive end.
Zach Gentry
Position change: From quarterback to tight end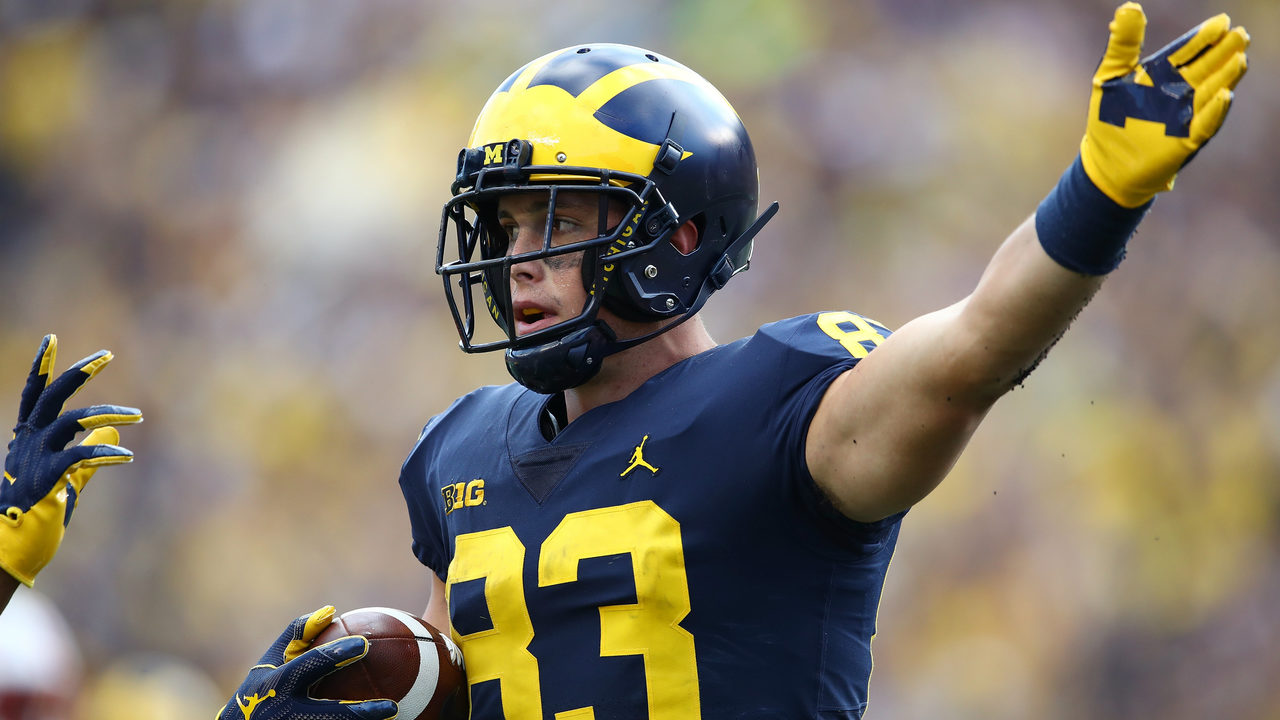 Harbaugh took some heat for moving Zach Gentry out of the quarterback position, especially since he appeared to have so much potential. Gentry was a four-star quarterback and the No. 1 player from the state of New Mexico in 2015. He had scholarship offers from Alabama, Texas and a host of other schools.
But seemingly the moment he stepped foot on Michigan's campus, Harbaugh was moving the 6-foot-7 freshman to tight end.
The criticism for the move has died down significantly as Gentry becomes a centerpiece in the revamped Michigan offense. After finishing second on the team with 303 receiving yards and two touchdown catches a year ago, Gentry has become one of Shea Patterson's favorite targets.
In 10 games, Gentry has 28 catches for 392 yards and two touchdowns, all among the top three players on the team. Since making the switch, Gentry has turned into a rare mismatch in the passing game, thanks to his combination of size and reliable hands.
He was probably too tall to play quarterback at the next level, but now Gentry will get an opportunity to continue his football career beyond college.
Ben Mason
Position change: From linebacker to fullback
Nobody identifies fullback talent like Harbaugh.
He moved Khalid Hill from backup tight end to fullback between 2015 and 2016, and Hill went on to score 13 touchdowns his final two seasons. He also got a look from the Seattle Seahawks in the NFL.
His replacement, Ben Mason, committed to Harbaugh as a three-star linebacker in 2017. The Connecticut native had a modest list of scholarship offers, but he's become a fan favorite in just his second season at Michigan.
Mason has earned 26 carries this season, gaining 68 yards and six touchdowns. He's moved the chains eight times on third or fourth down and three or fewer yards to go. His 2.6 yards per carry is very good for a fullback who gets mostly short-yardage carries and hasn't ripped off a run of more than 6 yards.
Mason is also an elite contributor on special teams and hurdled a defender earlier this season on a 15-yard catch-and-run.
Michigan's offensive style sets up several third-and-short scenarios, and Mason is a critical piece of the puzzle even when he doesn't get the ball. He's a decoy and a good blocker for Karan Higdon.
Mason is the full package at fullback, so Harbaugh clearly made the right call.
Tru Wilson
Position change: From safety to running back
After graduating from De La Salle Collegiate High School in Warren, Tru Wilson decided to walk on at Michigan instead of accepting scholarship offers from the three service academies or Robert Morris.
The two-star safety's commitment didn't make much noise in a 2016 Michigan class that ranked No. 8 in the country and included the likes of Rashan Gary, Ben Bredeson and a host of others.
Harbaugh immediately switched Wilson to running back, and he spent his first two seasons primarily as a special teams and scout team contributor.
But this season the former walk-on safety turned running back won the No. 3 spot on the depth chart. That's significant because the third running back in Harbaugh's offense gets plenty of work throughout the season.
Wilson has earned 46 carries this season, gaining 281 yards and scoring one touchdown. His 6.1 yards per carry leads all Michigan rushers with at least 20 carries.
Michigan has plenty of depth at the safety position, but when Ty Isaac graduated last season, it needed another running back to join Higdon and Chris Evans. Wilson is a good pass blocker and a solid third-string option, so this was another savvy move by Harbaugh.
Brad Hawkins
Position change: From wide receiver to safety
It's not uncommon for college players to switch between the secondary and wide receiver, depending on a team's needs. That's exactly what happened with Brad Hawkins.
The former four-star wide receiver committed to Michigan's loaded 2016 class, but spent a year at Suffield Academy before officially enrolling in 2017 as a three-star wideout.
Hawkins immediately moved to safety before being tried out at VIPER for a stretch in 2017. Now, back at safety, the sophomore is a significant part of the rotation.
Hawkins quietly ranks ninth on the team with 24 tackles this season and seventh with three tackles for loss. He filled in for starter Josh Metellus, who was ejected during the Notre Dame game for targeting, and settled in nicely after allowing a touchdown in the first half.
He has good size for a defensive back and his receiver speed helps him on passing plays.
Michigan's 2016 recruiting class featured a five-star receiver in Donovan Peoples-Jones and three four-stars in Tarik Black, Nico Collins and Oliver Martin. For someone with Hawkins' skill set, the move to safety made a lot of sense.
Now, instead of being one of many backup wide receivers, Hawkins is the first safety off the bench for a defense that rotates several players in and out.