ANN ARBOR - "Until one has loved an animal a part of one's soul remains unawakened," the French poet and novelist Anatole France once said. We couldn't agree more, which is why every week we try to highlight the Humane Society of Huron Valley's "Pets of the Week" -- furry friends who are looking for there forever homes. Spoiler alert: This week's group is sure to put a smile on your face.
Haven't heard of these animals? No worries. The "Pets of the Week" are HSHV's mix of animals that have been at the shelter for a bit longer than some of the other animals, but are no less deserving of homes.
"Though we believe all of our animals are special, every week we highlight a few 'Pets of the Week,' and discount their adoption fee 10 percent," HSHV communications director Wendy Welch said by email.
Welch went on to write, "Sometimes, they're animals who are in foster care -- amazing companions who simply don't get the publicity of those in our busy shelter. Other times, they're adult animals -- overlooked while kittens and puppies get adopted.
"They often have interesting stories, and they are always animals deserving of a great home. Thank you, 'All About Ann Arbor,' for giving them attention, and thank you, readers, for considering adopting a homeless animal, or for spreading the word about these needy friends!"
We hope you enjoy meeting this week's lovable animals:
(Credit: HSHV)
Bailey is sweet and gentle as a flower blowing in the breeze, and needs a family that will treat her tenderly. Bailey can be a bit shy, initially, and lacks the confidence to immerse herself into new situations without some unease. She will need a family able to give her time to acclimate to a new home. Once Bailey gets comfortable, however, her playful side will begin to show. Case in point: She absolutely loves tennis balls and could play with them all day. With a little time, patience and love, Bailey will make a great companion for a lucky family. She is currently living in one of HSHV's wonderful foster homes. If Bailey sounds like the right fit for you and your family, you can email adoptions@hshv.org or call 734-662-5585 to arrange to meet her.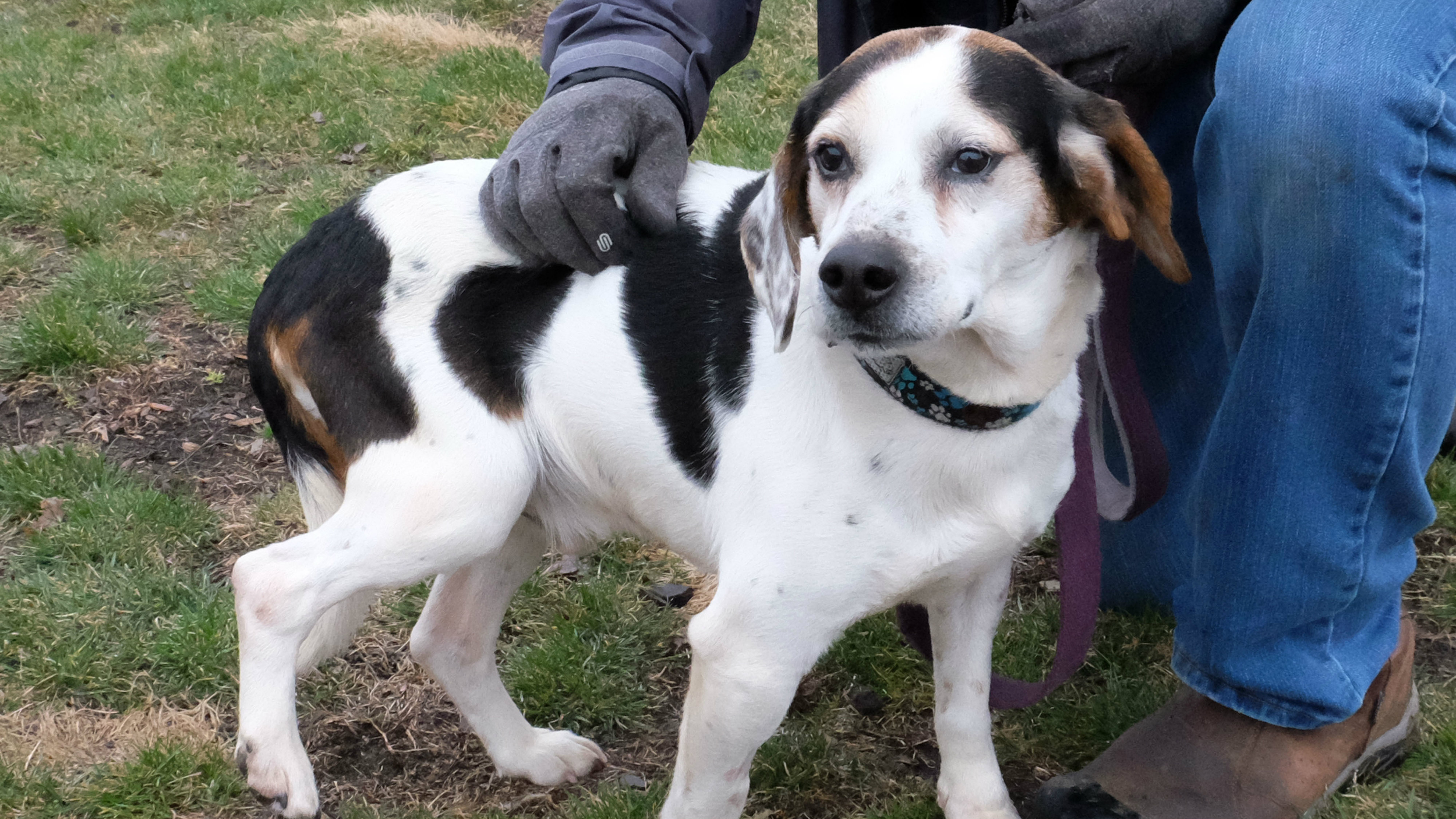 (Credit: HSHV)
Meet Buford, the regal beagle. He is just a gentle older fellow who would appreciate a calm and quiet home to call his own. He doesn't ask for too much, just a little love and a cozy place to nap. It is important to note, however, that Buford has heartworm. This means that he has parasitic worms in the right ventricle of the heart and nearby blood vessels. Heartworm is transmitted from one dog to another by mosquitoes and can be easily prevented using a monthly heartworm preventative, but once the disease is contracted, the treatment process can be quite intensive. Buford will need to remain sedentary with minimal activity during the treatment process to ensure a healthy recovery. There is additional information on heartworm disease and treatment available at HSHV's adoption desk.
(Credit: HSHV)
Still waters run deep. That's Maybon. He's a thinker, *then* a doer. An intellectual introvert who can laugh at himself, enjoying Cat TV on YouTube. Take your time to get to know this handsome guy, and you'll be thoroughly rewarded with nighttime cuddles-on-the-couch and daytime playtime (preferably with a wand toy, as they're smart and unpredictable). Maybon can get along with other cool cats and dogs, but he'd prefer no tiny humans, as they're not up to his sophisticated dialogue yet. Maybon is currently living in one of HSHV's wonderful foster homes. If he sounds like the right fit for you and your family, please email adoptions@hshv.org or call 734-662-5585 to arrange to meet him.
(Credit: HSHV)
Do you work long hours or have a busy social calendar but still want to have a furry friend around the house? Carolina might be perfect for you. Sometimes, our friends at HSHV will just watch this silly kitty bat a toy mouse around the room all by herself for 20 minutes having a ball. She's a curious cat who marches to the beat of her own drum and is so gentle and sweet. She'll purr at you endlessly, but she also really appreciates her me time. She will be a great companion.
We hope you'll take some time to visit these lovely animals. If you're looking for a wonderful family addition, you can't go wrong by visiting HSHV.
All the animals available for adoption by HSHV are spayed and neutered, up-to-date on their vaccinations and have a microchip ID, which is included in their affordable adoption fee.
Copyright 2018 by WDIV ClickOnDetroit - All rights reserved.