ANN ARBOR - Elizabeth Devos recently opened Vosenna, a new beauty store in Ann Arbor, and is looking to get the word out. If you're interested in indie beauty products made in the United States and, perhaps most importantly, are not tested on animals, you'll definitely want to take a trip over to Lamp Post Plaza, near Trader Joe's.
What exactly does "indie beauty products" mean? "They are made by private, non-conglomerate beauty brands," Devos said by email. "The majority of the brands in the store are handcrafted."
"In conglomerate manufacturing, they will outsource production to countries where manufacturing is cheaper," Devos said. "It was important to me to focus on brands that were made here and contributed to their local areas. Another benefit of indie brands is because they are not trying to appease shareholders, it's easier for them to refuse to sell in certain markets that require animal testing versus being pressured by shareholders to expand to other countries."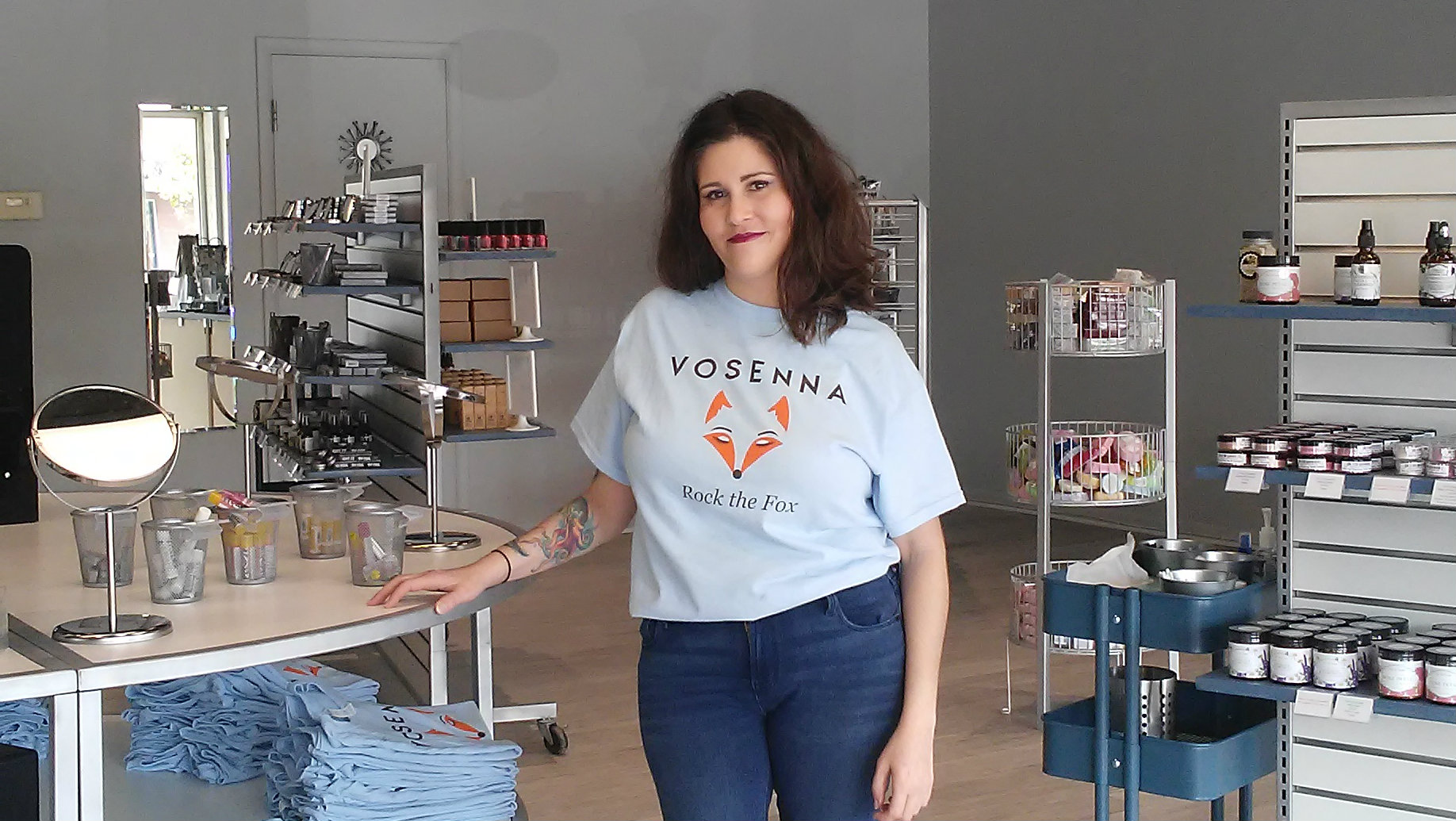 (Vosenna owner Elizabeth Devos)
As far as the benefits of buying these products, Devos has a practical and somewhat humorous answer: "I always jokingly say one of the best selling points is that I use indie brands and I'm 43. There's a lot to be said for limiting the chemicals that are in mass-manufactured skin and cosmetics," Devos said.
The brands currently offered in-store are:
Shiro Cosmetics
Bee Lovely Botanicals (a Michigan-based company)
Apocalyptic Beauty
House of Beauty
Essence Maker Aromatherapy
Ultimo Cosmetics
Au Naturale Cosmetics
Fat and the Moon
Pin Up Cosmetics
Brija Cosmetics
Kismet Cosmetics
Modern Man
Mr. Pompadour (and Ms. Pompadour)
Red Lips Studio
Gratitude Botanicals
Maia's Mineral Galaxy
Girlactik
Wild Veil
Solstice Scents
Sincerity Bath & Body
As an added bonus, Devos said that Vosenna offers jewelry available at checkout from Glassology (another Michigan-based company) along with handcrafted decorate soaps, bath bombs and foot scrubs.
(Some of the products Vosenna offers)
"Prior to this, you could find some of [these products] here and there, but they primarily only sold their brand on their own website," Devos said. "That mentality has limited the people finding them and I believe that putting indie brands under one roof can expose more people to the benefits of buying [these products], such as supporting small businesses, more ethical manufacturing, less chemicals and focusing on the quality of the products and not on the value to shareholders," Devos said.
When you visit Vosenna, you'll notice that the logo is a fox, which ties into the store's message. "The quote I'm using for the store is 'Rock the Fox,'" Devos said. "My personal mantra is 'true beauty is loving who you are.' There shouldn't be rules to only wear this color during this season, or don't pair this color lipstick with this color eyeshadow. People should wear what they want, how they want, when they want, because that confidence of living in one's own skin is what truly makes someone beautiful," Devos said.
Vosenna is located in the Lamp Post Plaza, near Trader Joe's in Ann Arbor. To learn more about the store, visit vosenna.com.
What should All About Ann Arbor write about? Take our user survey and help set our direction.
Copyright 2018 by WDIV ClickOnDetroit - All rights reserved.