ANN ARBOR - The University of Michigan's Solar Car team took home the second place prize, a new best for the team, in Australia's Bridgestone World Solar Challenge.
U-M was the first American team to compete in the race - a trek across 1,800-miles in the Australian Outback that promotes research on solar-powered cars - and has finally broken what they call "the curse of third," after placing third place five times in 27 years.
(Credit: Michigan Engineering)
About breaking the curse, team member Patrick Irving remarked that his teammates hugged, high-fived, and some even cried. "I'm so proud of everyone for doing something no other Michigan team has done. We had really high hopes for this car and doing something different. It was a big risk. We knew it was going to go either really well, or really not well. We're all very happy with how things turned out," he continued.
This year's vehicle, named Novum, is the smallest and most aerodynamic that U-M has ever built. About the size and overall design of the vehicle, Neil Dasgupta, the team's faculty adviser and assistant professor of mechanical engineering said that future teams may be thanking them.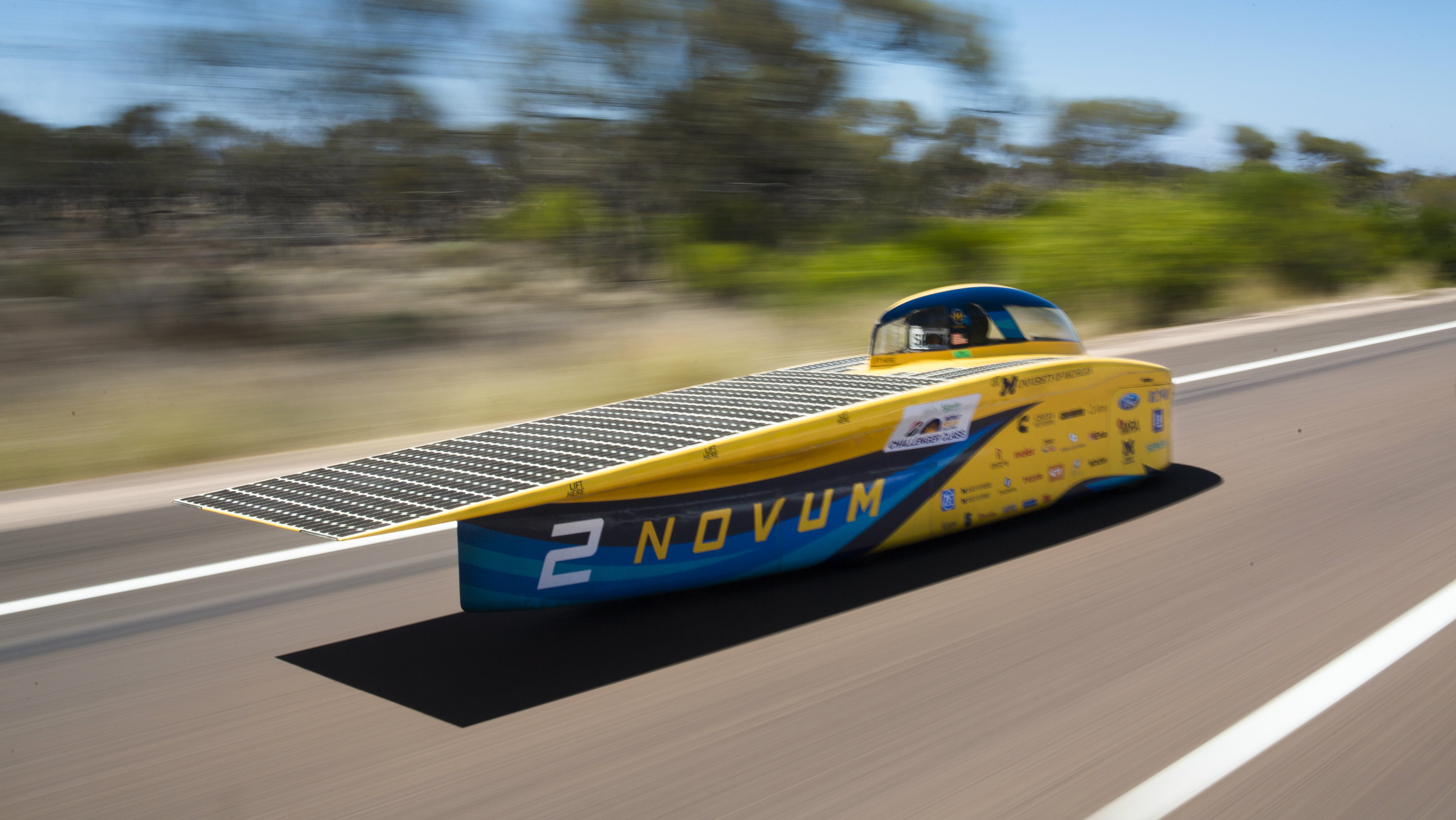 (Credit: Michigan Engineering)
We took a chance on going with a small car, and we're going to be ahead of the curve for years to come because of that," Dasgupta said. "I do believe that as the race continues to evolve, more and more teams will move towards a smaller car design."
Weather also contributed to the team's second-place win. Obstacles like giant puddles and high winds meant having to adjust on the fly, which is another key in any solar race: strategy.
Strategy comes down to focusing on the task at hand, and believing in one's self as part of a team of like-minded individuals coming together with the same goal in mind. Project Manager Jon Cha's pep talk echoed those sentiments.
(Credit: Michigan Engineering)
"The best teams have confidence in themselves. They're not focused on winning, they're focused on what they're doing—and they're also very, very relaxed," Cha said.
Ultimately, it paid off, as U-M finally broke "the curse of third" by bringing focus, determination, and a relaxed temperament to the race.
Copyright 2017 by WDIV ClickOnDetroit - All rights reserved.