LANSING, Mich. – Michigan voters this fall will get to decide whether to change how their state's congressional and legislative districts are drawn.
The state Supreme Court on Tuesday rejected a lawsuit challenging an anti-gerrymandering ballot measure, meaning it will go to a statewide vote in November.
The constitutional amendment would entrust redistricting to an independent commission instead of the Legislature and governor.
It is a bid to stop partisan gerrymandering, the process of a political party drawing electoral maps to maintain or expand its hold on power. Michigan Republicans controlled redistricting after the 2010 and 2000 censuses.
They have nine of Michigan's 14 U.S. House districts and hold 27-10 and 63-46 majorities in the state Senate and state House, respectively.
The lawsuit was filed by a business-backed group that contended the ballot measure was too broad and that such changes instead would have to be decided at a rarely held constitutional convention.
The following map provided by the National Atlas of the United States shows Michigan's Congressional Districts as of Feb. 1, 2014.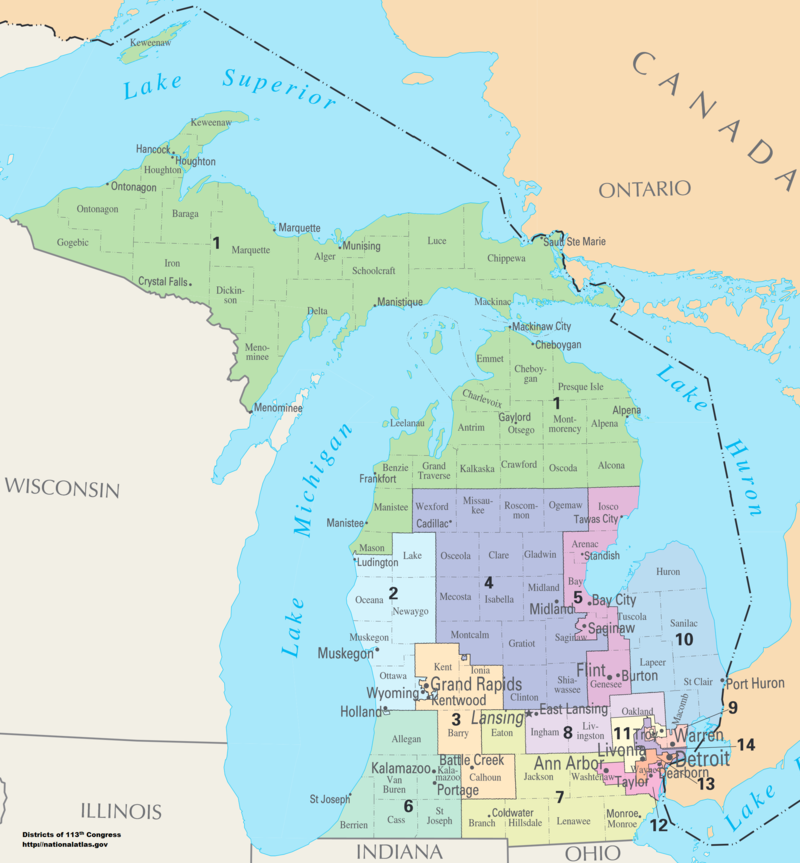 Be Heard. Go Vote!
A reminder to "Be Heard – and Go Vote!" this election season. The Aug. 7 primary election is your first chance to weigh in on big races for governor, U.S. Congress and the State Legislature. Unfortunately, last time around turnout was less than half of the voting public in southeast Michigan. We all have political opinions. Don't just share them on social media. Share them in the voting booth.