LANSING, Mich. - The Michigan Supreme Court held a special session Wednesday to hear oral arguments over a ballot proposal to change how the state's electoral boundaries are drawn.
The justices held a special session Wednesday and asked many questions during 75 minutes of arguments.
The proposal supported by the group Voters Not Politicians is slated to be on Michigan's ballot in November. If passed by voters, the proposal would create a 13-member independent redistricting commission to draw the state's congressional and legislative districts in an effort to battle so-called gerrymandering in the state.
Election officials want a ruling by early August.
The Legislature now draws districts for Congress and the Michigan House and Senate every 10 years. Critics of the current system say districts are drawn to benefit the political party that's in power in Lansing. They submitted enough signatures to put the issue on the November ballot.
The group Citizens Protecting Michigan's Constitution (CPMC) and two individual voters filed a lawsuit earlier this year against the proposal. CPMC argues that the proposal changes too many parts of the state constitution to qualify as a "ballot proposal." The group also argues the proposal is in violation of state election law and fails to list all of the constitutional provisions it would override.
On June 7, a Court of Appeals first rejected CPMC's request to keep the proposal off the ballot.
The plaintiffs appealed the court's decision to the Michigan Supreme Court. A request to have the Court of Appeals' order stayed was denied, but CPMC was granted a Supreme Court oral argument.
The following map provided by the National Atlas of the United States shows Michigan's Congressional Districts as of Feb. 1, 2014.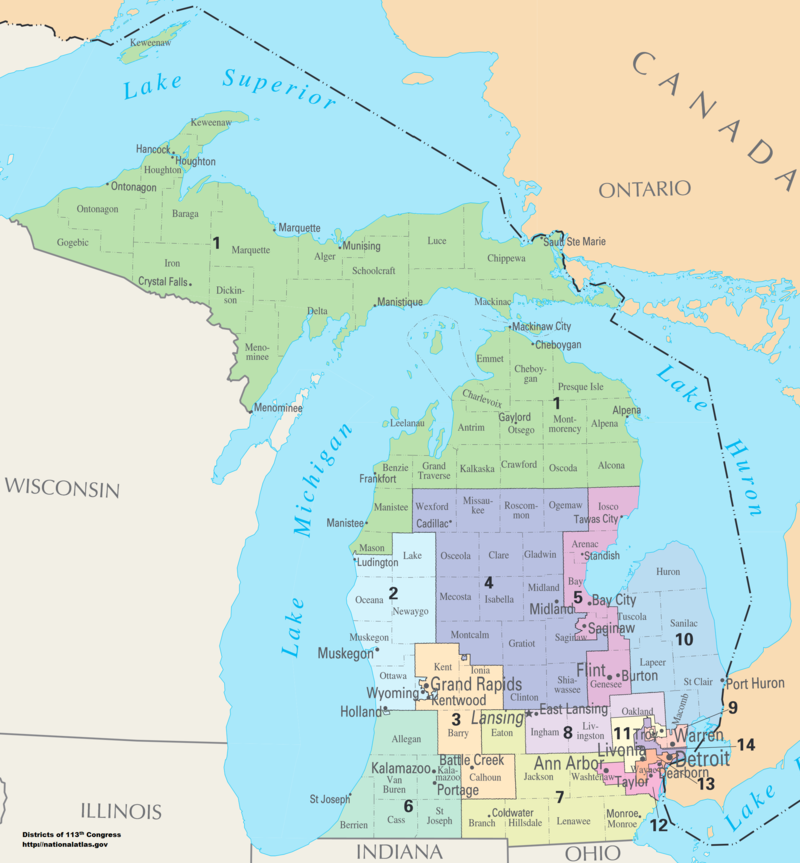 Copyright 2018 by WDIV ClickOnDetroit - All rights reserved.