DETROIT – The last week of March was a busy one around Metro Detroit. As the calendar flips to April, here's a look at some of the highlights you might have missed on ClickOnDetroit.com.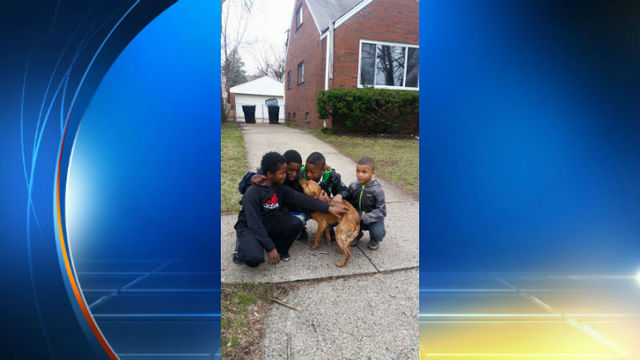 A few boys rescued an abandoned dog tied to a vacant house with bungee cords Friday.
The boys were helping a woman move when they discovered the dog.
Kenny Dancy, 13, Kenneth Dancy, 11, Kevin Dancy and Andrew Daniels, 7, named the dog Sparkle and took care of her until the Detroit Pit Crew could help.
"You could tell they really love this dog," Detroit Pit Crew Dog Rescue founder Theresa Sumpter said.
You can read the full story and hear what the boys said about saving the dog here.
---
Thirteen former or current principals within the Detroit Public Schools (DPS) district face federal conspiracy and bribery charges in an alleged scheme to receive kickbacks from a school supplies vendor.
The former and current principals are accused of conspiring with the vendor Allstate Sales to give them payments -- through DPS funding -- in exchange for kickbacks.
"This case is a real punch in the gut for those who are trying to do the right thing," said U.S. Attorney Barbara McQuade.
Among the principals named in the scandal is Ronald Alexander, whose school was showcased on The Ellen Show when Ellen surprised him with a $500,000 donation.
Read: Ellen donates $500,000 to Detroit's Spain Elementary-Middle School
"I cannot overstate the outrage that I feel about the conduct that these DPS employees engaged in that led to these charges," said DPS transition manager Judge Steven Rhodes. "This behavior is absolutely unacceptable and will never be tolerated."
Click here to view Local 4's full coverage of the case and learn about all of the federal complaints.
---
"I don't know why you did what you did ... you stole from my family. I pity you. I hate you, and I can never forgive you."
That's what April Millsap's mother, Jennifer, said said to the man convicted of killing her daughter in Armada last year.
"There is no evidence that shows I have done anything wrong," James VanCallis told the court. "This is a sad chain of events that I'm somehow wrapped up in."
A jury in February found the 34-year-old guilty of murder, kidnapping and criminal sexual assault in the death of April Millsap.
Read more about this story and watch Jennifer's full emotional statement here.
---
A 50-year-old American Airlines co-pilot who was arrested over the weekend at Detroit Metro Airport on suspicion of being drunk has been charged.
John Francis MaGuire, of Pennsylvania, is facing a misdemeanor charge of operating an aircraft while under the influence.
An arraignment is pending.
The Federal Aviation Administration said MaGuire was detained Saturday morning from Flight 736 from Detroit to Philadelphia. Local 4 learned he failed two breathalyzer tests.
"Everyone was talking about it and stunned when they finally figured out what it was," passenger Mitchell Blaine said.
Click here to read the rest of the story, including a statement from American Airlines.
---
The mother of a 3-year-old boy posted a rant to Facebook after her son was teased for the socks he was wearing.
Shona Campbell took to the social media site after her boy's socks were called "girl socks" by other children at the nursery.
"To the mother at nursery picking up your child. You may have thought I didn't hear you but let me assure you I did!!" the post begins. "When your child pointed out my SON had love hearts on his socks, and mocked them for being GIRLS socks you absolutely tore apart my faith in this world, because you agreed and laughed along with your child."
You can read the rest of the rant here.
---
Ann Arbor Police, the University of Michigan and the ride-sharing service Uber are investigating after an Uber driver came under a profanity-laced, slur-laden attack from a U of M student.
The rant was captured on video and has since gone viral. It has hundreds of thousands of views on YouTube alone. The abuser was angry because the driver refused to give him and the people with him a ride. The university is confirming it is a student making the verbal attack on the driver. The school calls it reprehensible.
"We don't give a (expletive) about you. There's 50 of us, one of you and I spend a lot more money than you," he's heard saying on the video.
He calls Uber driver Artur Zawada by name and uses a gay slur.
"I got insulated, I got abused, and accused of saying things I never said," said Zawada.
Click here to watch the video of the attack and learn about what happened to Zawada and his attacker.
---
Laurene Sikorski on Monday made a final plea for a judge to grant her daughter mercy when he sentenced her for her role in a plot to kill their family.
Sikorski said her 17-year-old daughter was misled and used.
"Nothing will benefit this child by sending her to jail. She made some poor choices that led her to this conviction," she said.
Roksana Sikorski used a knife to cut her 12-year-old brother's neck and tried to stab her younger sister on Oct. 17, 2014, in their Plymouth Township home. According to Sikorski -- who was 15 at the time of the crimes -- and the prosecution, her 23-year-old then-boyfriend, Michael Rivera, was outside the house sending text messages to her on how to fatally stab the family members.
Read: Text messages reveal Plymouth Twp. teen's plot to stab family
Among the texts from Rivera was one that said "Baby im here just cut the throat quickly on both of them."
Sikorski and Rivera were both charged with assault with intent to murder and conspiracy to premeditated murder.
You can learn more about the story here.
---
Local singer Jayme Orr heard her song on the radio for the first time last week.
"I am an emotional wreck, which I did not expect," she said.
Orr recorded the big moment and now the video has over 300,000 views. Jamie Edmonds caught up with Orr to relive the magical moment.
"The song came on and it was just totally surreal and it was such a cool moment," Orr said.
Watch the video of her reaction here.
---
More headlines on ClickOnDetroit.com:
Quizzes this week on ClickOnDetroit.com: