DETROIT - Three people lost their lives Friday when the car they were in was crushed by a semi-truck in Detroit. A woman, her uncle and her mother were driving eastbound on Plymouth Road when their car met the semi, which was driving northbound on the Southfield Freeway service drive.
"I saw the truck flipping over," eyewitness Roderick Clayton said. "I heard the big crash, then I just saw it slide and by the time I got to the door, that's when I saw the car."
Crews had to cut the roof off a Ford Focus to pull the three victims from the wreckage.
"It's a loss of words. What can you say? You see bodies being lifted from the car," said Kiwaina Griggs, who is a friend of one of the victims. "It's a loss for everybody."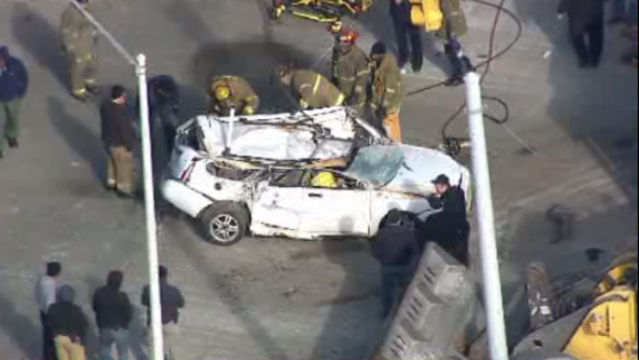 The driver of the semi truck was uninjured. Police are investigating which driver was at fault in the accident.
Copyright 2014 by ClickOnDetroit.com. All rights reserved. This material may not be published, broadcast, rewritten or redistributed.