DETROIT - Local 4 has learned that the conditions of a Detroit mother who survived being shot and lit on fire while she was pregnant and her now newborn son are improving.
Latonya Bowman, 22, had an emergency C-section Tuesday to deliver her son. The newborn had been on a respirator but Thursday was taken off of it. He remains in the intensive care unit.
Plan was to kidnap, kill pregnant woman
Bowman was nine months pregnant when she met with her ex-boyfriend, the baby's father, last Saturday at a home in Warren on Sherman Street.
Police said the two were in the garage when another man put a gun to Bowman's head, blindfolded her and bound her hands and feet with duct tape.
She was then driven in her own SUV to a vacant house in Detroit, doused in lighter fluid and set on fire.
Police said as Bowman tried to roll on the ground to put out the flames, she was shot in the shoulder.
As she lay burning and wounded, she played dead until her two attackers fled, police said.
She then drove herself to a gas station, then her mother's house before she was taken to a hospital.
"This is one of the most disturbing, maniacal, difficult-to-wrap-your-head-around crimes we've had in our city," said Deputy Warren Police Chief Louis Galasso.
Community members have been dropping off baby supplies to the Police Department for Bowman.
Men charged with attacking pregnant woman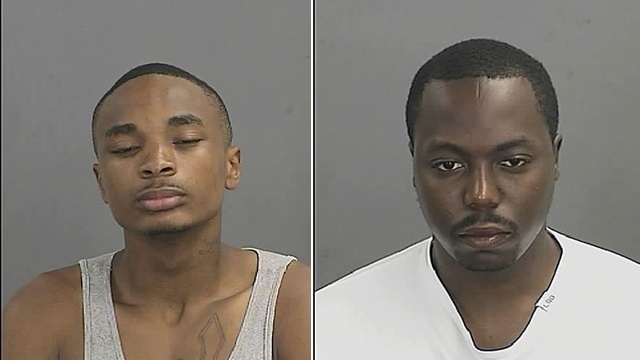 Investigators say Anthony Mathis and Jamal Rogers, who is the baby's father, began devising the plan to attack Bowman in March.
Police said both men have given statements to police and that Rogers had last-minute second thoughts.
"Leading right up to a point where it was planned in advance but then one of the parties decided to change their mind," Galasso said.
Rogers allegedly didn't want to have a third child with a third woman.
They were both charged Tuesday with assault with intent to murder, conspiracy to commit homicide, felony firearm, unlawful imprisonment and conspiracy to commit unlawful imprisonment
Both were denied bond.
Help for women in metro Detroit
Bowman's case comes the same week as the death of 29-year-old Shalonna Dowell, who was stalked for weeks by a former boyfriend, then shot and killed in front of her 6-year-old daughter. The former boyfriend then took his own life in Royal Oak.
But of the cases are extreme but bringing light to the plight of women who are in dangerous relationships.
"Turning Point sees 3,000 cases a year," says Sue Coats, CEO of the agency in Mount Clemens.
Only four shelters are in operation in all of metro Detroit where battered women and women living in fear can turn for help. And they are operating with shrinking resources.
"Cutting back of grants and state and federal support for out programs. But we're still here 24/7," says Coats.
Links to the four shelters: Women's shelters in metro Detroit
Copyright 2012 by ClickOnDetroit.com. All rights reserved. This material may not be published, broadcast, rewritten or redistributed.