ANN ARBOR, Mich. - Metro Detroiters look forward to the North American International Auto Show every year. It's fun, exciting and even helps charity.
But how often do you find a truly inspiring auto show? Local 4 Business Editor Rod Meloni found one Sunday.
Mott Children's Hospital in Ann Arbor rolled out the red carpet for young cancer patients Sunday to show them gorgeous new and vintage cars and trucks. This display wasn't on television and the kids didn't watch from their hospital beds. They went out to touch more than 50 cars in during the show.
"We were best friends right from the start," Jean Jennings, one of the globe's most respected auto analysts, said of 11-year-old Caden Bowles, a former heart patient.
Jennings put on the first of these car shows last year for Caden, a car crazed boy from Fort Wayne, Indiana, whom she visited during his stay in the hospital.
35004404
"He was like, 'wow,'" Jennings said. "He had fingers going and talked about everything. He said, 'you know Jaguar is a great car, but it always has quality problems.' That's how he talked."
Caden needed a heart transplant a couple of years ago, but he didn't get one and passed away. Caden's passion lives on in the car show. His hand-drawn pictures, complete with imaginary specs, greet you at the door. His dream land shows other kids with cancer classics like the BMW I8, a Lamborghini Countache, or a good humor ice cream truck.
"It's a great diversion for sick kids, and or one day to come out of that hospital and see them smile, it is fantastic," said Caden's grandfather, Jack Bowles.
The show also helps raise awareness for organ donation and serves as a tribute for Caden.
The Ford Tonka Mighty Truck is the big star of this year's show. Other cars in the show include the Jeep Chief concept car, Shelby Cobra 427, McLaren 650S, Rolls-Royce Phantom Drophead Coupe, Tesla Model S P85D, Dodge Challenger Hellcat, Aston Martin V8 Vantage GT, Ford "Tow Mater" car from Cars, Ford Anglia to resemble the flying Harry Potter car, Tonka dump truck and the Oscar Mayer Wienermobile. The Kia hamsters also join the show.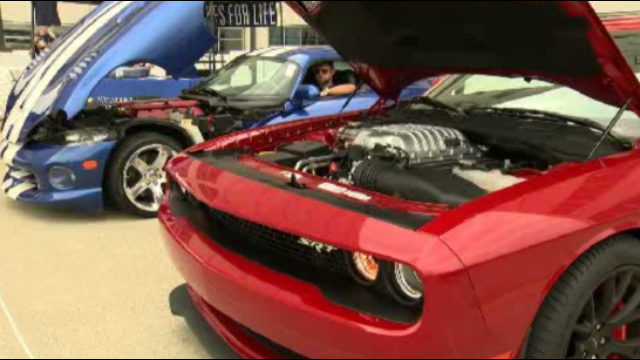 Like other auto shows, they are keeping next year's lineup under lock and key. But they assure that they intend to one-up this year's showing.
Caden loved cars so much that while he waited for a heart transplant in the hospital he was known for endlessly talking about detail makes and models to visitors. He even created his own newsletter, a hand-drawn publication he called "Full Throttle" that included pencil drawings of different cars.
Caden was at Mott in 2013 waiting for a second heart transplant when he passed away. He needed a second surgery after the one he received as a baby was no longer working well enough to keep him alive.
His legacy and spirit live on through Caden's Car Show. Jennings and the Mott hospital staff wanted to do more to honor Caden and his family's commitment through the event.
If you'd like to learn more about Caden's cause or becoming an organ donor, watch the video posted below.
35004618
Copyright 2015 by ClickOnDetroit.com. All rights reserved. This material may not be published, broadcast, rewritten or redistributed.