NEWBERRY, Mich. - Crews are working to ensure that no more structures are damaged by a wildfire burning across more than 30 square miles of Michigan's Upper Peninsula.
The Department of Natural Resources on Tuesday says 97 structures have been destroyed, including 34 homes or cabins, campers, a store and one motel. The latest estimate adds two sheds or outbuildings to a total released a day earlier. No injuries have been reported.
Homes and cabins make up a third of the structures destroyed. The lost property includes Pike Lake Resort near Pike Lake in Luce County.
Where is it burning?
The DNR says the Duck Lake Fire began with a lightning strike last week and burned about 22,000 acres, or 34 square miles. DNR public information officer Ada Takacs says Tuesday that the fire is about 47 percent contained.
The south end of the fire is 14 miles north of Newberry and 7 miles west from Tahquamenon Falls State Park campgrounds. A long and narrow fire, it stretches 11 miles to the north to Lake Superior. There are currently 40 miles of fire line. Of that fire line, 6 miles is Lake Superior shoreline, 13 miles is completed line (includes County Road 500), and 21 miles is uncontained fire line. Access remains very difficult with few roads.
Evacuations and closed roads
An evacuation order remains in effect for the area from Pike Lake east to County Road 500 and north to Little Lake Harbor. 
County Road 414 east from the intersection with County Road 410 and County Road 500 from M-123 north to Little Lake Harbor are closed. Please do not enter the area. All road closures remain in effect until further notice. No road reopening schedule has been determined due to ongoing fire issues and aircraft suppression efforts. 
Tahquamenon Falls State Park's lower falls campground, upper falls viewing area and visitor center have been closed due to smoke concerns. Please do not visit the park.
On May 25, Governor Rick Snyder declared a state of disaster in the Luce and Schoolcraft counties. The declaration permits authorities to evacuate residents, and establishes a fireworks ban in the two affected counties and an outdoor burning ban in 49 counties:
Alcona, Alger, Alpena, Antrim, Arenac, Baraga, Bay, Benzie, Charlevoix, Cheboygan, Chippewa, Clare, Crawford, Delta, Dickinson, Emmet, Gladwin, Gogebic, Grand Traverse, Houghton, Iosco, Iron, Isabella, Kalkaska, Keweenaw, Lake, Leelanau, Luce, Mackinac, Manistee, Marquette, Mason, Mecosta, Menominee, Midland, Missaukee, Montmorency, Muskegon, Newaygo, Oceana, Ogemaw, Ontonagon, Osceola, Oscoda, Otsego, Presque Isle, Roscommon, Schoolcraft and Wexford.
How to report damage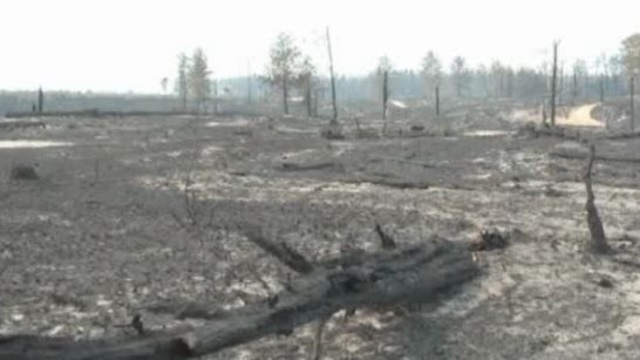 Concerned parties should phone 211 (Upper Peninsula residents) and 1-800-338-1119 (all others) to register their structure location and contact information.
Officials do not have contact information for all properties within the fire perimeter, so it is very important that all landowners make contact. As the structure inventory and damage assessments are completed, the involved parties will be contacted and informed of the status of their property. 
No escorted site visits will be allowed for individuals who do not own property within the fire line. The highest priority will be given to the individuals who own permanent residences within the fire line. Site visits will depend upon fire conditions and operations at the time. 
Luce County Emergency Management has provided landowner site visits for homeowners in the Pike Lake and Little Lake Harbor areas, giving them an opportunity to quickly visit their homes to see the status for themselves.
Have you been affected by the fires? Do you have pictures? Email local4@clickondetroit.com
Copyright 2012 by ClickOnDetroit.com. The Associated Press contributed to this report. All rights reserved. This material may not be published, broadcast, rewritten or redistributed.