DETROIT - In the quest to look better, younger, or just fight wrinkles, many women are looking for some extra help. But be careful. You may think you are going to doctor, but the Local 4 Defenders have discovered a loophole in the law that could be putting you at risk.
Medical spas and skin care centers are popping up all over. And while more are legitimate, there is something you should know. When you make an appointment, you need to realize the person doing your procedure may be licensed to do so -- but under a physician's supervision. What you may not realize is that physician doesn't even have to be in the building.
One metro Detroit woman, whose name has been changed to Ava, shared her story with the Defenders as a warning for others.
"I came across Progressive Laser in Birmingham and called and talked to Julie, and she gave me a price on the phone. So, I made an appointment and I asked her if she was qualified to inject, and she said she was -- that she was a nurse of 10 years," Ava said.
Ava said she had always wanted to get her chin filled. She had injections five years earlier, so she thought she knew what to expect when she made an appointment with Julie Sosnick.
"It did not have the same effect as when I had it five years ago. It was nothing like that," Ava said.
Defender Karen Drew started researching Sosnick's past and found her mugshot. She has been convicted in two different states, Michigan and Florida, for cocaine possession and driving on a canceled or suspended license. Drew also checked into her nursing license in Michigan. She didn't have one. She did, however, have a license to be an esthetician.
Drew also discovered that Sosnick lied on her application, denying she had a felony record.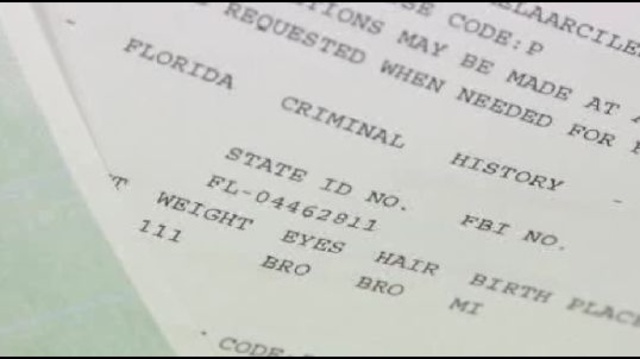 According to Michigan law, an esthetician can inject, do microdermabrasion or do laser work as long as the person is under a physician's supervision.
"What the law says is that it can provide indirect supervision, that means by telephone. The person could be on vacation, on a beach in Florida. You, as the patient, could have a problem and the person that injected you could call up and say, 'Doctor so and so, who loaned me your credentials, I'm having a problem,'" said dermatologist Dr. Steven Grekin.
Grekin said he's had patients come to him after bad experiences from medical professionals who were working under a physician's supervision.
Drew went to the Birmingham office where Sosnick worked, but she would not come out and did not return any phone call requests for an interview.
When an undercover producer went in to talk to Sosnick, she told him she performs procedures on the young and old.
"If you are going to do it anyway, and give someone else the money, I'll take it, but I feel like a thief when it's a young person," Sosnick told the producer.
What Sosnick is doing is legal because all she needs is the supervision of a physician -- whether or not that physician is in the building.
When our undercover producer asked Sosnick about her credentials, she said, "I'm a couple credits short of a masters in nursing." But then she pointed to the wall and referenced another certificate, "There is one that says I'm a doctor, but it was a misprint," Sosnick said.
Advice when looking for a reputable professional:
1. You want to see the provider open the package. You want to see that all of packages have holographic seals on them.
2. If you're not given a consent form, don't let them touch you.
3. Do a professional background check on the worker and check their certification records.
The Defenders did contact the state about Sosnick's record and the fact that she lied about her felony record on her application -- the state is investigating.
Copyright 2014 by ClickOnDetroit.com. All rights reserved. This material may not be published, broadcast, rewritten or redistributed.