STERLING HEIGHTS, Mich. -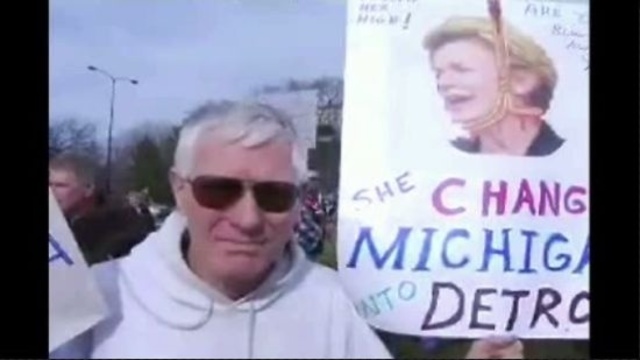 Sterling Heights City Councilman Paul Smith is at the center of a new controversy stemming from a 2009 video.
It's now going viral and getting the attention of police, the Sterling Heights city manager and taxpayers.
During a Tea Party rally that year in Troy, Smith, who at the time was not an elected official, is shown on the video holding signs with an image of former Michigan Gov. Jennifer Granholm with a noose around her neck and President Barack Obama with a spear through his skull.
"Hitler was a terrible guy but at least he wasn't a traitor to Germany," Smith said. "Obama is a traitor to America."
The words on the sign are too offensive to type in this story. Inappropriate terms were used to call out illegal immigrants and members of the gay and lesbian community.
"It means we want to get rid of her," Smith said about the Granholm sign.
The video was forwarded to police and the city manager on Monday.
Police are reviewing it and the city manager is wasting no time speaking out. The city manager released this statement on the city's behalf:
" ... the city of Sterling Heights must strongly disavow the personal viewpoints expressed by Mr. Smith on the signage displayed in the YouTube video and his attempted defense of the disturbing content."
Copyright 2012 by ClickOnDetroit.com. All rights reserved. This material may not be published, broadcast, rewritten or redistributed.