WIXOM, Mich. -
The reward for any information which leads to an arrest in Michigan's highway shootings now stands at $102,000.
The FBI and Bureau of Alcohol, Tobacco and Firearms are each offering $50,000 and Crime Stoppers is offering $2,000. More than 600 tips have been received by authorities via Crime Stoppers, police departments, phone calls and dispatch centers.
"The person or persons responsible for these random, violent shootings has demonstrated a reckless disregard for human life," said FBI Special Agent Robert Foley, who is in charge of the agency's Detroit office.
The FBI and ATF held a press conference Monday in Wixom.
"I am increasing a reward being offered by the ATF from $25,000 to $50,000," said ATF Special Agent in Charge David McCain. "Our law enforcement partner, the FBI, is also offering $50,000."
Earlier in the day, Michigan State Police said they don't believe that someone shot at a car at about 9 a.m. along the same stretch of freeway where there have been a string of recent shootings.
Watch: Communities on edge after roadway shootings
Michigan State Police Lt. Mike Shaw said that some type of "projectile" likely hit the car of the woman driving on southbound U.S. 23 near Interstate 96.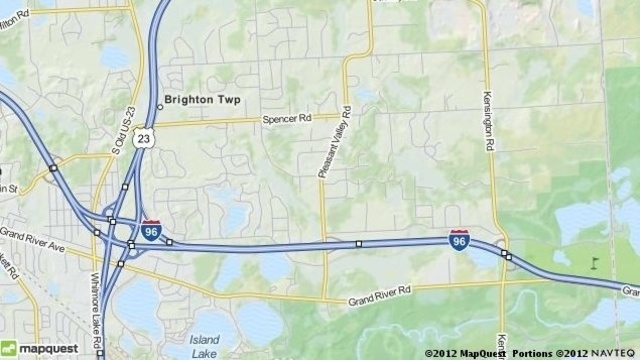 Police had shut down part of the highway and brought in tracking dogs to scour the area. Brighton Area schools were briefly put on lock down as a precaution.
Watch: MSP press conference after Monday incident
A specially formed task force with dozens of investigators has been working to solve the 25 reported shootings along Interstate 96, or near it, in Ingham County, Oakland County, Livingston County and Shiawassee County.
Police have released a sketch of the possible suspect which is described as a white man, possibly 30 years old and balding.
Ten of the incidents happened in Wixom alone. The first occurred Oct. 16th.
The most recent happened Saturday afternoon in Fowlerville when a motorist driving along Interstate 96 was shot and wounded.
Surveillance video shows the victim hobbling into a Mobile gas station in Fowlerville asking for help after being shot.
Livingston County Sheriff Bob Bezotte said the 46-year-old Delton man was taken to the hospital for a gun shot wound in the left buttock area by a bullet that came through the driver's-side door. He was listed in stable condition at St. Joseph Mercy Hospital of Livingston.
Bezotte said the Delton man is a Tigers fan who was on his way to Detroit for the World Series game.
Anyone with possible information on the shootings is asked to call 800-SPEAK-UP.
Copyright 2012 by ClickOnDetroit.com. All rights reserved. This material may not be published, broadcast, rewritten or redistributed.