DETROIT - Detroit's Cass Tech High School football star Jayru Campbell has been charged with two counts of assault in connection with a body slamming incident involving a security guard.
Campbell has been charged with felony assault with intent to do great bodily harm and aggravated assault, which is a misdemeanor. He's being charged as an adult.
"Under the facts of this case, any defendant, no matter who they are, would have been charged as we have charged today," Wayne County Prosecutor Kym Worthy said. "The fact that the defendant is a talented high school football player does not change these facts."
Video from inside the school allegedly shows the 17-year-old pick up the guard and throw him to the floor.
Worthy said the security guard suffered injuries to his face and head.
Read back: Jayru Campbell free, no charges yet
Worthy was clear about why it so long for her office to file charges.
"It takes three weeks because we are down 85 people, most of them being lawyers," she said.
Campbell is scheduled to be arraigned on Wednesday.
Campbell, a junior quarterback with Cass Tech, has been highly recruited by college football programs. Michigan State University offered him a scholarship and he gave a verbal commitment to the East Lansing school.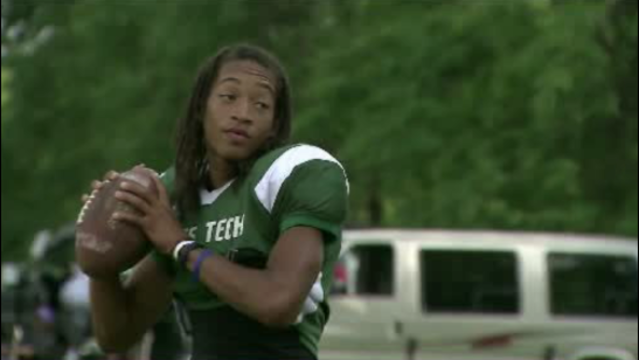 The university won't comment on whether Campbell's scholarship would be pulled.
It released this statement: "NCAA rules prohibit institutions from commenting on specific prospects until a National Letter of Intent has been signed."
Copyright 2014 by ClickOnDetroit.com. All rights reserved. This material may not be published, broadcast, rewritten or redistributed.