DETROIT - Video of the body slam Cass Tech High School football star Jayru Campbell allegedly delivered to a Securitas security guard at the school on Wednesday looks exceptionally painful and clearly could have caused devastating injury.
On video: Cass Tech football star body slams security guard
Fortunately, the guard is shown jumping back to his feet. He went after his attacker and had to be restrained, too.
Though Detroit Public Schools and Securitas have not released the name or information about the guard, Local 4 found him. We are not giving out his name but a source close to him said he has something to say about the incident.
The source quoted the guard: "I am OK ... and was well aware of Jayru Campbell's VIP status."
The source also says he "did not want the situation to get as big as it has become."
There are questions about how 17-year-old Jayru, the state championship quarterback, and the guard wound up meeting in the Cass Tech hallway. It was the guard's second day on the job.
The guard is saying he "did not touch Jayru."
"He touched me. The rules are we do not touch unless touched. I followed the rules," he said.
The source told Local 4 the guard, who does not want to be identified publically, said, "I was trying to de-escalate the situation and wanted to step away ... we want students to be safe. It is our job to protect people, not hurt people."
Jayru Campbell released from custody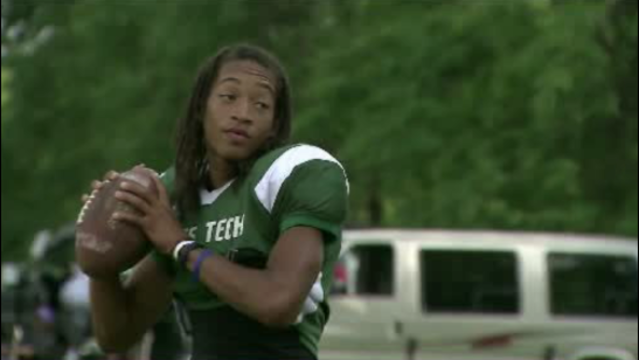 Jayru was released from Detroit police custody Friday evening. An update on any possible charges will be given next week.
The Wayne County Prosecutor's Office still is in the process of looking at the investigative paperwork.
Jayru has been highly recruited by college football programs. Michigan State university offered him a scholarship, and he gave a verbal commitment to the East Lansing school.
The university won't comment on whether Campbell's scholarship would be pulled. It released this statement: "NCAA rules prohibit institutions from commenting on specific prospects until a National Letter of Intent has been signed."
Copyright 2014 by ClickOnDetroit.com. All rights reserved. This material may not be published, broadcast, rewritten or redistributed.