DETROIT - A concerned mother Tuesday night on Local 4 was frustrated that a drug raid was conducted at a house in Detroit in full view of her son and the rest of the Pasteur Elementary children on the playground.
Story: Gunfire erupts during police raid across from Detroit school
A neighbor, who wishes to be named Timothy in this story, heard the shots and said the school did a good job of protecting the children.
"The people that were out here did a pretty good job of corralling the kids in a calm fashion to pull them back and begin to take them in. I do credit them with that," he said.
Detroit police were shooting near the side door of the home. Aggressive dogs were going after them. The dogs died.
Detroit Public Schools said it followed its emergency program and sent home a note to parents. The district released this statement:
"The safety and security of our students and staff is one of our top priorities at Detroit Public Schools. When any incident occurs, we follow our safety protocols to ensure that no harm comes to those in our charge. While the school was given no prior warning of this event, the school promptly followed safety protocols, subsequently notified parents as quickly as possible of the incident and followed up with a crisis team. The only injury reported was one scraped knee."
However, this has new Detroit Police Chief James Craig taking a second look.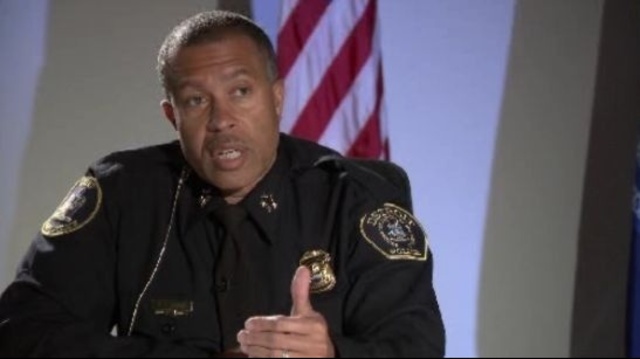 "I'm concerned. That shouldn't happen. Certainly I've taken a look at that. I'm not at all pleased with what I heard, and candidly, it was associated with a drug raid and while we ended up seizing large amounts of narcotics, we certainly shot two dogs that tried to attack the officers as they made entry," said Chief Craig.
It's a quandary that the raid turned up what police were looking for, however:
"We seized weapons and narcotics, but certainly we can never forget about the safety in our community, and certainly with a school being right across the street, that concerns me. So, we had put in place, prior to this event, something I call a matrix in looking at how we make assessments on locations being served by warrants, we make assessments on whether or not it should be a service completed by our SRT," said Craig.
Chief Craig is finding out the problems his officers face daily are unique. However, knowing how to deal with that fact is challenging. They will be taking a second look at this problem.
Copyright 2013 by ClickOnDetroit.com. All rights reserved. This material may not be published, broadcast, rewritten or redistributed.