DETROIT -
What goes up, must come down!
But, on Sunday the Jefferson Avenue Bridge came down way too soon, hitting a 690 foot steamship on the River Rouge.
The drawbridge runs over the Rouge River in Detroit and just after 2:15 Sunday morning it came down on top of The Herbert C. Jackson.
The bridge was no match for the 690 feet long vessel and it suffered heavy damage after the freighter, registered in the United States, struck the half open bridge.
The Herbert C. Jackson only suffered minor damage to the hull during the crash. It was carrying 23,000 tons of iron pellets for Dearborn's Severstal North America plant, and its crew of 24 escaped injury.
The woman operating the bridge was taken into custody and the Coast Guard says a drug and alcohol tests are pending for her.
"The bridge operator was lifting the bridge and for some reason dropped it as it was approaching and it ended up hitting the bridge and causing some damage," said Cindy Dingell is with the Wayne County Department of Public Services.
Lt. Westmiller with the U.S. Coast Guard says the operator was arrested after the accident and failed a breathalyzer test. Police said she blew over the legal limit to drive.
The bridge will remain open to freighter traffic on the river but will be closed for car traffic indefinitely.
Dingell says this type of accident is unusual.
"Usually we  have a boat once in a while that will hit our bridge but we have never had operator error that has caused a situation like this in the 91 years we have been operating this," she said.
The damaged freighter from the Interlake Steamship Company was taken to a nearby shipyard for repairs while crews worked to fix the bridge to get it back open for commercial traffic on the river.
"This is a very busy channel for shipping traffic that moves in and out of the rouge," said Dingell.
Bridge History:
The bridge was built in 1922. It was restored in the 80's and placed on the National Register of Historic Places.
The bridge operates directly over the Rouge River on West Jefferson Avenue. It can be found south of I-75 and west of Brennan Street on the west side of the city.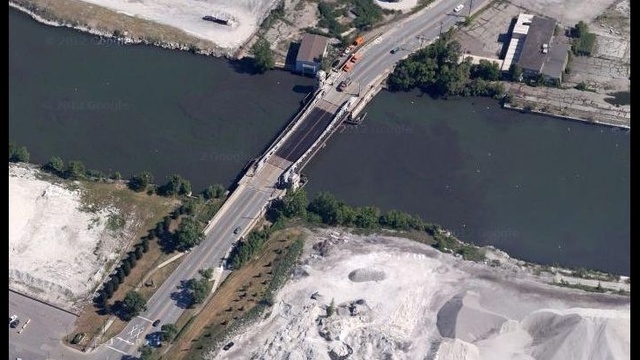 ~Jefferson drawbridge ~
Copyright 2013 by ClickOnDetroit.com. All rights reserved. This material may not be published, broadcast, rewritten or redistributed.