DETROIT - Kwame Kilpatrick, his father and two others are in federal court in Detroit as jury selection in their corruption trial enters an important stage and the stakes couldn't be any higher.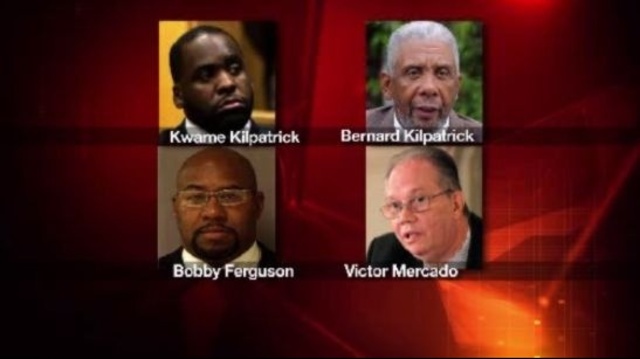 Inside the courtroom the former mayor, his friend contractor Bobby Ferguson and Kilpatrick's father were relaxed. Former Detroit water boss Victor Mercado sat far away from the others and never looked their way. 
They listened as four potential jurors were questioned - the first four were white.
The first an older, retired tool and dye man – married to his wife of 40 years. He says he knows of Kilpatrick from his prior text message scandal case and he believes he should pay his fine.
Kilpatrick's attorney said the former mayor has paid detroit back close to $200,000. That juror also says he heard of Bobby Ferguson from a case where he believed he took money. 
Next was a 34-year-old father of four, Fed-Ex worker from downriver. He admitted convictions when he was a teen for marijuana and domestic violence. He called Kilpatrick a "brilliant man" and said he could be fair in judging him. 
Next, a divorced woman who remarried two weeks ago – a supervisor at a company in Livonia who likes to play "devil's advocate"
Last – a middle aged single woman – a school psychologist in Hazel Park who tailgates at Lions games with police officers and says she doesn't have enough evidence to know if African Americans get a fair shake within the justice system.
Federal Judge Nancy Edmunds and four defense attorneys are asking questions of potential jurors.
The potential jurors will not be identified by name in court.
Kilpatrick jury questionnaire - 25 pages
Kilpatrick, Bernard Kilpatrick, former city water boss Victor Mercado and Kilpatrick pal Bobby Ferguson are accused of a sweeping corruption scheme.
Raw video: Kilpatrick arrives to court
Kilpatrick, Bobby Ferguson, Bernard Kilpatrick, Victor Mercado indictment 2012
Raw video: Bernard Kilpatrick arrives at federal court
--Bernard Kilpatrick
The Kilpatricks are accused of shaking down contractors who wanted business or favors from Detroit city hall. The government calls it the "Kilpatrick enterprise."
Special section for Kwame Kilpatrick's federal trial
All have pleaded not guilty. Kilpatrick was mayor until fall 2008 when he resigned in an unrelated scandal.
The judge wants an 18-member jury, including alternates, in time for opening statements Sept. 14.
Download Kwame Kilpatrick Trial app
Copyright 2012 by ClickOnDetroit.com. The Associated Press contributed to this report. All rights reserved. This material may not be published, broadcast, rewritten or redistributed.