DETROIT - Jacqueline Tobini thought she would be heading to New York after graduation in search of her big break on stage. 
Instead she has balanced her last semester classes at the University of Michigan while filming a TV show on location in Portland, Ore.
Tobini was discovered during her screenwriting class earlier this year.  
Jim Kouf, one of the executive producers for the NBC show 'Grimm' was at the class and some of the students did a reading.
"They asked us if we wanted to read for this role so I went home binge-watched 'Grimm' they put us on tape and then that night I, like, left the audition thinking like 'Oh that was fun, but, like you know nothing is going to come of it," said Toboni.
But she got a call to read again.  The call came at 2:30 a.m. and she was told to book a flight to Los Angeles right away.
"I flew out to LA, auditioned in front of the executive producer, and the cast and people," said Toboni. "Then later that day, I found out I was going to network and they were going to see my stuff and then I went up to Portland to test with David Giuntoli.
All of that happened within four days.
"Little did I know that I would be on NBC in, like, a couple of weeks," said Toboni.
All because she showed up to class.
"Seriously it was a 9 a.m. Friday class. Thank God I went, or else I wouldn't be here," laughs Toboni.
Toboni plays the role of Trubel and debuts in the "Grimm" episode that airs at 9 p.m. Friday. 
So far she is in four episodes, including the season finale.
"She is super troubled. She comes from a tumultuous past. She is a warrior, she is a survivor," Toboni said.
Toboni can't say much more about her character but admits her studies at U of M have helped her on set.
"I will tell you this, I get to fight a little bit," said Toboni. "I am very into that, I am a stage combat gal and this program (U of M) has a great, great stage combat program," said Toboni.
Being new to TV acting, Toboni credits the staff and crew for helping her get up to speed quickly.
"They have all taken me under their wing right off the bat with notes, with chocolates. They took my first call sheet and framed it and signed all the edges just wishing me good luck and (have) just been so gracious," said Toboni.
This opportunity was unexpected for Toboni and she is just seeing where it might take her.
"I don't know; theater was kind of my first kiss and my first love.  I'm dating TV and maybe I am looking to marry film. I don't know, but we will see. I want to experience it all," said Toboni.
As for fans of the show, she doesn't think the upcoming episodes will disappoint.
"They have a lot of great surprises coming up, so stay tuned, it's going to be fantastic. And the writers, God -- Jim and David are just like absolutely brilliant, they are very talented and they know what they're doing and they keep me hooked," Toboni said.
Toboni graduates in May and plans to move to Los Angeles.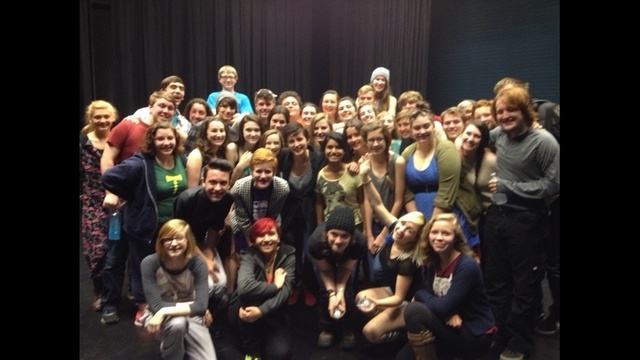 Copyright 2014 by ClickOnDetroit.com. All rights reserved. This material may not be published, broadcast, rewritten or redistributed.