FERNDALE, Mich. - The grounds at the Machpelah Jewish Cemetery in Ferndale are kept up on a daily basis, but the past few days hard work was needed more than ever.
Headstones were cracked, flower beads ripped from their steams and sprinkler heads knocked over, all of this after a runaway felon lead police on chase.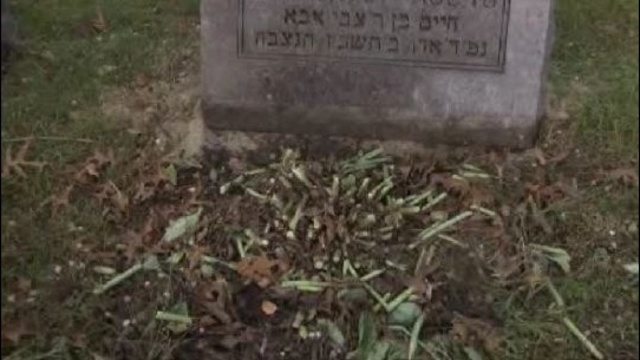 "He must of drove over a couple of hundred graves," said the cemetery's general manager, Paul Saville. "Around $500 in damage to the flower beds and six headstones were damaged." 
It wasn't a Halloween prank. The damage was done by 43-year-old Michael Wasikowski of Sterling Heights.
Wasikowski was driving a 2002 Dodge Intrepid Sunday when Ferndale police pulled him over after running his license plate, which showed Wasikowski was a wanted felon.
Video from police patrol car dash cam shows the officer approached Wasikowski with his gun drawn. Wasikowski put his hands out of his window as the officer walked toward him, then resisted arrest and took off speeding through the cemetery.
"He went all the way to the back, where you can only go right or left," said Saville. "He went left and ran into a gate and had to nowhere to go." 
But that gate did not stop Wasikowski.
He put the car in reverse and drove down a row of headstones, leaving a trail of damage behind him. Now, piles of sand keep two family headstones upright after being knocked over.
"He finally stopped the car at a family plot that was so big he just couldn't go through," Saville said. "That's when he ditched the car and got on foot, but this cemetery is completely fenced in and he had nowhere to go." 
Police caught up with Wasikowski after a short foot chase.
More than 100 people were visiting the cemetery Sunday morning, incredibly no one was hurt. 
Wasikowski been charged with second-degree fleeing and eluding, resisting and obstruction police, along with malicious destruction of tombs and memorials. He has been arraigned and is being held on a $150,000 bond.  
Wasikowski was released from prison in 2011.
His criminal history includes:
Assault with a dangerous weapon in Macomb County Circuit Court
Fleeing and eluding police.
Convicted of false pretenses in Wayne County
Retail fraud in Oakland County 
He is scheduled for a pre-exam conference at 1 p.m. Thursday in Ferndale District Court.
Copyright 2013 by ClickOnDetroit.com. All rights reserved. This material may not be published, broadcast, rewritten or redistributed.