MIAMI -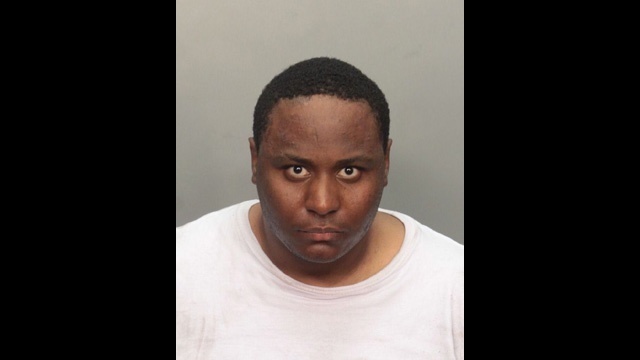 A 24-year-old man berated a Miami-Dade County Circuit judge during his bond hearing Wednesday.
Police arrested Jodel Leveille about 1 a.m. He was charged with battery on a law enforcement officer, battery, and criminal mischief.
Leveille punched his girlfriend repeatedly, then resisted arrest and spit on an officer, according to police.
During his bond hearing later in the morning, Judge Ellen Sue Venzer said she found probable cause against him on the battery charge, setting Leville off.
WATCH: Uncut video of Leveille's bond hearing
"F*ck you, judge! You b*tch! F*ck you!" he yelled.
Leville walked away from the podium, then returned while flipping her off.
"That b*tch stabbed me! F*cking b*tch! Your officers beat my ass so f*ck you!" he continued. "They beat my ass and stabbed my ass! I had a restraining order against that b*tch! F*ck you!"
"I can't imagine why, sir," replied Venzer.
"F*ck you and your court! F*ck you! Can't nobody -- you can't judge me!" he answered.
"You know what I am going to do, Mr. Leveille?" she said.
"I don't give a f*ck what you do. Go to hell. You can go to hell for all I care," answered Leveille.
Venzer sent Leveille back to his cell, where he spoke with a public defender, then brought him back for the afternoon bond session.
"I got nothing to say to you, judge. You and the officers that beat my ass can go to hell," Leveille told her. "That girl stabbed me and I am the one to go to prison. I am the victim here. I don't have no apologies to say to nobody."
A corrections officer led Leveille to a bench, where he continued berating Venzer. She issued him a $17,000 bond and ordered he undergo a psychiatric evaluation.
This wasn't the first time tempers flared in a Miami courtroom.
On February 4, Penelope Soto appeared before Circuit Judge Jorge Rodriguez-Chomat after she was arrested of possession of a controlled substance. He doubled her bond when she laughed, then gave her 30 days in jail when she flipped him off.
Copyright 2013 by Local10.com. All rights reserved. This material may not be published, broadcast, rewritten or redistributed.