HOLLY, Mich. - Army Sergeant Matthew Leach has been laid to rest at the Great Lakes National Cemetery in Holly.
The Ferndale native completed two tours of duty in Iraq. A third in Afghanistan ended with his death on June 26th. The army is awaiting the results of an autopsy.
WATCH: Uncut: Ferndale soldier's body returns to Michigan
"A lot of times at funerals we like to say good things about people," said Master Sergeant Jeff Rector, who is retired from the Army. "I'm going to tell you he was among the best. He set the standard. He led by example. He was an exceptional man."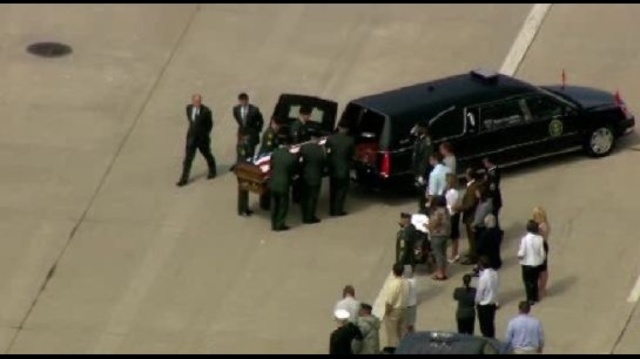 When flown at half-staff or half-mast, the U.S. flag should be hoisted first to the peak for an instant and then lowered to the half-staff or half-mast position. The flag should again be raised to the peak before it is lowered for the day.
Leach had worked with Rector as part of a military honor guard for funerals at the same cemetery. Leach would sometimes present the flag to the widows of fallen soldiers or veterans.
Today his wife Sarah was given the flag which covered Leach's casket.
Other survivors include his seven-month-old son Jack, and his mother Wendy Sawyer.
She says her son was constantly serving people.
"In the winter we'd be driving and he'd see a stuck car and make me pull over so he could push them out. Total strangers," she told Local Four.
A large crowd of mourners gathered near a lake for a commitment ceremony. It included a 21-gun salute and the playing of Taps.
The family has one consolation.
"I taught him to follow his dreams and he did. He was happy," said Sawyer.
Trust fund
A trust fund has been sent up in Leach's honor. Donations may be made at any Bank of America. Donations must be made to the Jack Hunter Leach Fund, account number 375010907747
Copyright 2012 by ClickOnDetroit.com. All rights reserved. This material may not be published, broadcast, rewritten or redistributed.