INKSTER, Mich. - Fifteen families have lost everything following a Saturday morning apartment fire on Cherry Hill near Henry Ruff in Inkster. Three people were taken to hospital. Two people were hurt after they jumped from balconies to escape the flames.
By the time firefighters arrived at 4 a.m. Saturday the third floor of the building was engulfed in flames.  The fire was so intense that firefighters couldn't enter the building to make sure everyone made their way out safely.
Jerel Robinson said, "I feel devastated.  I don't know what I'm going to do now.  I just have to start over."
Robinson said he heard screams and smelled smoke.  The smoke was so thick the only way he could make his way out safely was off the balcony.
"We had no other choice but to jump.  The fire was so big.  The fire was so hot. The only thing I grabbed was my phone and my car keys, I had on wet socks, I had no shoes, had to get them out of my car, it was crazy." Robinson's cat died in the fire.
Inkster fire chief Mark Hubanks said, "It took some time before we considered it under control because again, you were dealing with a lot of fire already had a great headstart and the wind itself. "
The chief says had the wind been blowing from the north, more apartments in the complex would've burned down. Nine families got food, clothing and shelter from the Red Cross.
More than 30 firefighters battled the blaze at its peak.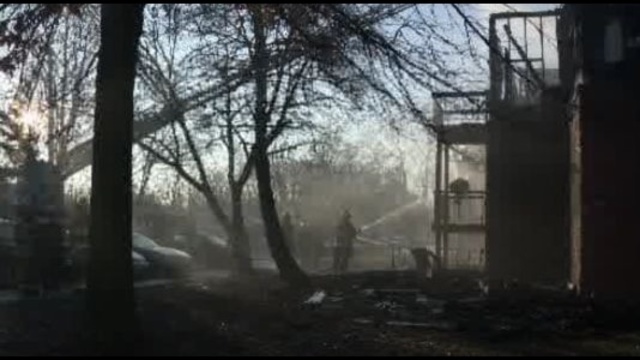 Copyright 2013 by ClickOnDetroit.com. All rights reserved. This material may not be published, broadcast, rewritten or redistributed.