GROSSE ILE, Mich. -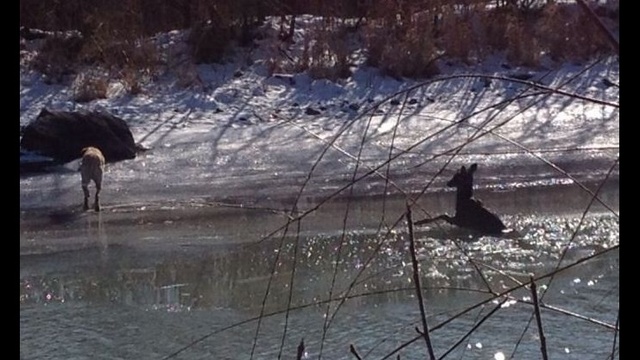 Grosse Ile police officers and firefighters, with the help of a dog and Animal Control, rescued a deer from the frigid water of the Thorofare Canal on Tuesday.
Police say officers were called about 1 p.m. on a report of a dog barking at what was believed to be a person who had fallen through the ice. Upon arriving, officers found the dog barking at a deer struggling for life as it attempted to climb onto the ice to escape the cold water.
Police say if not for the dog's persistent barking the deer's struggle might not have been brought to anyone's attention. The deer could not get more than its front legs and torso onto the ice. The animal was overwhelmed by the freezing water and fatigue, police say.
Animal Control Officer Julie Cortis, Grosse Ile Fire Chief Duncan Murdock and Fire Marshal Russell Bodrie first used ground ladders and cold water rescue suits to try to rescue the wild animal. However, the deer was frightened by the rescuers and swam to the opposite shoreline where it was trapped by the surrounding ice and seawall. The deer could not escape to safety.
Yet, the rescuers showed persistence themselves, police say, and worked to coax the deer to safety. They used water rescue equipment and an animal retrieval hook to bring the animal out of the water.
Police have video of the heroic act.
The deer was taken to the Grosse Ile Animal Shelter where it was treated for shock and hypothermia. It will be released to the wild once it recovers.
Copyright 2012 by ClickOnDetroit.com. All rights reserved. This material may not be published, broadcast, rewritten or redistributed.