DETROIT - Warren police say a man is in custody after first trying to break into a home, leading police on a chase and then crashing in Detroit.
Police Chief Jere Green said the suspect tried to get into a home on Toepfer Road, but was startled by a 15-year-old and 19-year-old who were inside.
The suspect took off in a white Ford Explorer, leading police on a chase into Detroit.
"I see this white truck flyin' past and 10 police cars chasing behind him at a rate of high speed," said witness Barbara Collins.
Green said the suspect then blew through a stop sign and hit a Ford Escape at East Warren and Iroquois Avenue.
The suspect tried to run, but was caught on the porch of a nearby home, police said.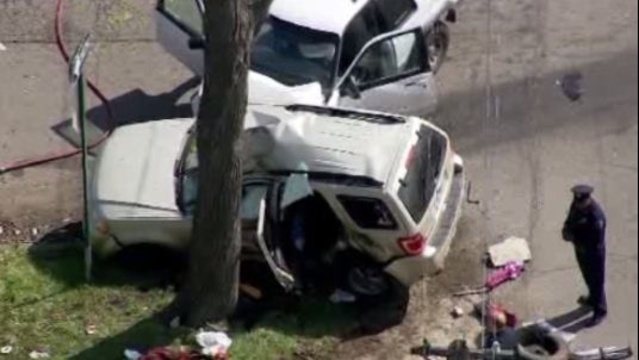 Michigan State Police said there were four people inside the Escape who needed to be taken to the hospital for treatment of non-life-threatening injuries: A 47-year-old man, a 49-year-old woman, a 69-year-old woman and a 2-year-old boy.
Police also said "alcohol appears to be a factor in the victims vehicle."
Copyright 2014 by ClickOnDetroit.com. All rights reserved. This material may not be published, broadcast, rewritten or redistributed.