DETROIT - Protesters chanted "pay your fair share" as they were led out of General Electric's shareholders meeting at Detroit's Renaissance Building Wednesday morning.
CEO Jeff Immelt had begun speaking when the protesters took their stand. They claim the company hasn't paid billions in taxes. GE executives say the company did pay taxes in 2010 despite $32 Billion in losses in its financial business, while in 2011, the company's tax rate was 29 percent.
More video: Group protests outside shareholders meeting
The protesters had bought a single share of GE stock to gain access to the meeting.
"People have the right to voice their opinion and they did today," said GE spokesman Gary Sheffer. He said the protester are simply misinformed.
"We do pay taxes. We pay what we owe," he said.
The shareholders meeting continued with a crown of about 500 as the hundreds of protesters marched and briefly gathered in nearby Hart Plaza.
Kelly Albrecht came from Wisconsin to join the protest.
"And GE pays zero in taxes. They keep saying, 'Oh, well, we paid 32 percent.' But they don't actually realize those taxes. That is putting the burden on people to pay for the services that we need," she said.
IMAGES: GE protesters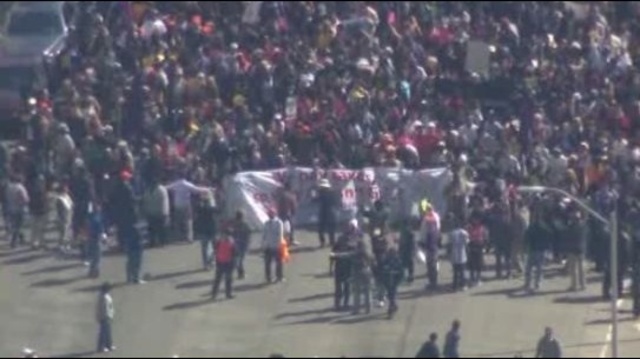 The shareholders meeting comes after GE announced it is adding 300 engineers and scientific specialists to its Advanced Manufacturing & Software Technology Center in Van Buren Township.
Copyright 2012 by ClickOnDetroit.com. All rights reserved. This material may not be published, broadcast, rewritten or redistributed.