ST. CLAIR COUNTY, Mich. - St. Clair County officials say they're bracing for high water levels and powerful winds Tuesday as the effects of superstorm Sandy hits.
In a release, the county said the National Weather Service is predicting possible flooding along the shoreline of Lake Huron.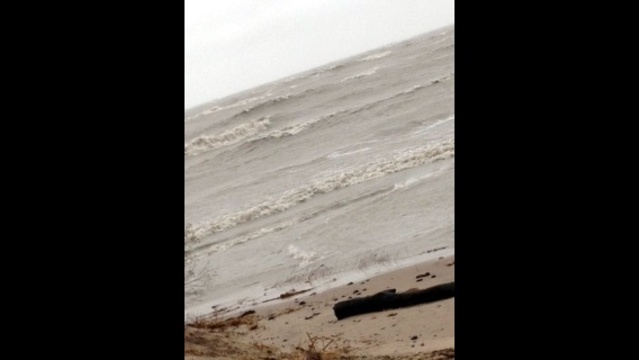 The St. Clair County Road Commission is working to clear roadways that have been littered with down lines and trees -- the majority of the problem areas are in Port Huron, Fort Gratiot and Burtchville Township.
A law office in Port Huron went up in flames Monday night after a down power line fell across its roof. Fire crews at the scene are waiting for DTE to cut power to the line before they can completely extinguish the fire.
Mitch Olson
--Law office of Gary Fletcher
About 10,000 residents in the county are without power. Crews are going around to houses and putting yellow caution tape on those have been damaged to mark them as reported. They are asking residents to not call 911 if there is caution tape in their area.
Anyone who needs to report an outage can call DTE Energy at 800-477-4747.
It is important to use care around downed power lines and to assume that the line is live.   Watch out for overhead hazards such as broken limbs and report all trees and power lines that block road ways to the St. Clair County Central Dispatch at their non-emergency number 810-985-8115.  
For the safety of everyone on the road, it is very important that you treat any downed traffic light as a four way stop.  
If you are using a back-up generator, be sure that it is in a well-ventilated area.  Never use grills, generators, or camping stoves indoors.  
Do not walk through flowing water as it may be contaminated.  In addition, six inches of swiftly moving waters can knock you off your feet. 

Drivers are reminded to never drive through flooded roadways. 

IMAGES: St. Clair County weather damage
Copyright 2012 by ClickOnDetroit.com. All rights reserved. This material may not be published, broadcast, rewritten or redistributed.