PLYMOUTH, Mich. - Nicholas Baptiste's goal at 7:01 of the first period was enough for the Sudbury Wolves to defeat the Plymouth Whalers, 1-0, in an Ontario Hockey League game played Friday evening before 2,596 at Compuware Arena.
Sudbury is 25-10-3-4. Plymouth is now 16-22-0-5.
Sudbury goaltender Franky Palazzese stopped all 34 shots he faced to record his fifth shutout of the season. Plymouth goaltender Alex Nedeljkovic was nearly as good, stopping 34-of-35 shots.
The Whalers – celebrating Military Appreciation Weekend – wore specially designed camouflage jerseys.
The last 1-0 game played at Compuware Arena came on Oct. 25, 2008 when the Windsor Spitfires defeated Plymouth, 1-0 on a Taylor Hall goal at 13:10 of the second period.
Plymouth continues at home on Saturday at 7:05 pm against Windsor (6:50 p.m., 88.1FM WSDP; 7 p.m., CN-900). Continuing with the Military Appreciation Weekend, World War II Veteran Frank Rogers of Westland (91-years-young) will be dropping the puck in a ceremonial face-off before the game.
The Whalers also host Saginaw on Monday afternoon at 2:05 pm at Compuware Arena (2 p.m., CN-900).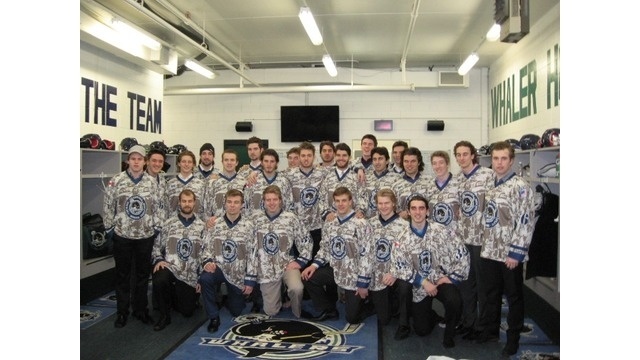 Photo credit Pete Krupsky
Whalers in their special camouflage jerseys for Military Appreciation Weekend -- Photo credit Pete Krupsky
Copyright 2014 by ClickOnDetroit.com. All rights reserved. This material may not be published, broadcast, rewritten or redistributed.