DETROIT - Individual game tickets for the 2014 Detroit Tigers season go on sale Saturday, March 1, beginning at 10:00 a.m. Fans will have the opportunity to purchase single-game tickets at the Comerica Park Box Office on Witherell Street, online at tigers.com or by calling 866-66-TIGER (84437).
Tickets for the 2014 season at Comerica Park will be dynamically priced. Fans are encouraged to visit tigers.com/tickets for more information, including the complete schedule and promotion information. More than 400,000 tickets for the 2014 season will be priced at $20 or less when tickets go on sale.
To ensure as many Tigers fans as possible have the opportunity to experience Opening Day 2014, the Tigers will allow fans to purchase a maximum of four tickets per person for the home opener on Monday, March 31, versus the Kansas City Royals.
In order to provide fans a greater opportunity to purchase Opening Day and choice game tickets, the Tigers will distribute numbered wristbands to the first 1,000 fans on Friday, Feb. 28, at 3:00 p.m. to fans who wish to purchase tickets at the Comerica Park Box Office on Saturday.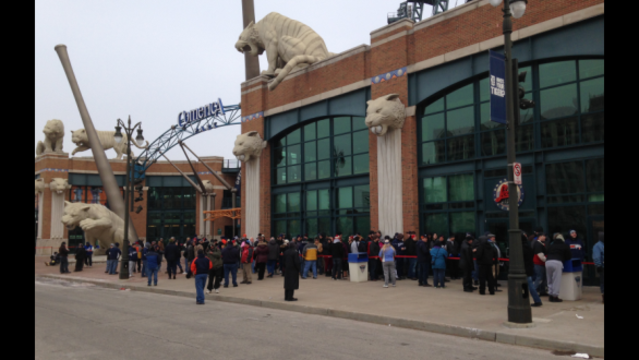 Fans can pick up a wristband at the Tiger Club lobby located on Witherell Street beginning at 3:00 p.m. on Friday, February 28. Fans are not permitted to wait overnight.
Saturday, March 1, between 8:15-8:30 a.m., a fan will randomly draw a number that will start the line.
All other numbers will be placed in numerical order through 1,000 and then one through the last number drawn, followed by individuals without wristbands who arrive after the number has been drawn; wristbands will not be handed out after the number has been drawn.
Wristbands are one per person and do not guarantee tickets. Fans with wristbands must be in numerical order by 9:30 a.m. on Saturday. Guests arriving after 9:30 a.m., even with a wristband, will need to go to the end of the line.
Fans must have a valid form of payment for tickets, either cash or a credit card with a valid ID.
Copyright 2013 by ClickOnDetroit.com. All rights reserved. This material may not be published, broadcast, rewritten or redistributed.