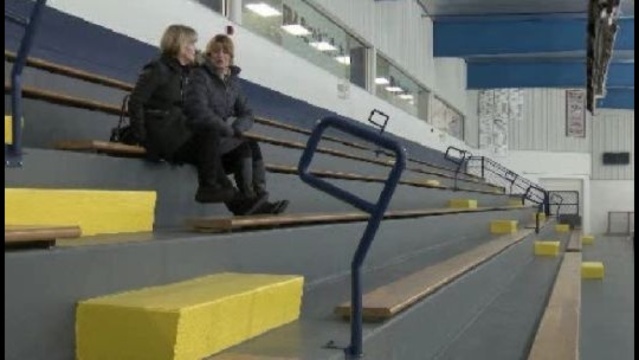 They are the Davis and White parents who sit just outside the spotlight, supporting their children as they fulfill their lifelong dreams.
Jacqui White has been at every ice dance competition, Cheryl Davis has missed only one in 17 years.
Their children are world ice dance champions Meryl Davis and Charlie White.
Watch uncut interview: Jacqui White and Cheryl Davis
"To see that they always go out and do their best, you're very proud of them and I'm very proud of everything they've done along their way," said Cheryl Davis.
Davis and White have skated together for 17 years. They are six-time US Figure Skating Champions, in 2011 they became the first American ice dance team to win the World Ice Dancing Championships.  They won the world title again in 2013.  
Read Jacqui White's latest blog posts:
The Dads Are Part of the Team
A Sneak Peek at Sochi
Our Time in London
In 2010 they won the silver medal at the Winter Olympics in Vancouver, Canada in 2010.  They are determined to win the gold medal in Sochi, Russia.
Davis and White have two children who are very accomplished in their sport.
"I don't really think about it on a daily basis. I think when we get to the competitions, and I see them out there competing it sometimes feels unreal," said Jacqui White.
White did have a moment while watching her son Charlie skate with Meryl at the US Figure Skating Championships in Boston last month.
"When they were skating, and they were just absolutely beautiful, I just had this flash, and it just brought  tears to my eyes, of Charlie when he was five years old, and how much I loved watching him and he wasn't doing anything spectacular he was just skating basic learning and I just saw him out there like he was five again like it was just yesterday and it really did make me tear up and think about the journey and how quickly it's gone and how its been the ups and downs and how it's culminated into this unbelievable ability they have to bring joy to me and to everyone in the audience," said Jacqui White.
Meryl was nine and Charlie was eight when the two were paired together at the Detroit Skating Club.  They have skated together ever since and even Meryl and Charlie say it's difficult to describe how close they are to each other.
"We always have a hard time describing the ice dance partner dynamic," said Meryl Davis. "You know we're friends, we're business partners and we portray so many different characters on the ice that it's really hard to kind of associate our relationship with kind of your every day relationship that other people might understand."
"It's definitely just unique.  We can basically read each other's minds at this point  you know we have such a feel for what the other person is doing out on the ice you know because of all the time we have spent together," said Charlie White.
Meryl and Charlie are very close to their families and credit the amount of support they have from them as a reason for their continued success.
"We've been amazingly lucky to have the mothers that we do, been able to come with us to all of our competitions and support us in what we want to do," said Charlie White. "They never pushed us, but allowed us to go for our goals and our dreams, and that's a huge part of why we're been able to succeed the way we have."
Davis and White are unsure if they will be able to see their children before they compete in Sochi Russia, but know what they will do if they get the chance.   The same thing they do at every competition.
"I just give him a hug and tell him I love him, skate good," said Jacqui White. "It's kind of an inside joke because he always says 'Skate well' mom, you mean skate well,' so I always just deliberately say 'Skate good.'"
"When we go to competitions, a lot of time Meryl does not come out of her room to talk to other skaters, she really tries to focus, and she'll eat lunch in her room and a lot of time I'll go in and have eggs and a piece of toast with her or sit and chat with her, talk with her" said Cheryl Davis.  "A lot of times we'll watch a movie together rather than talk about skating."
In the skating community, these two women are known as 'The Moms' and see themselves as the universal moms because they try to be there for all the athletes.
"We've watched a lot of these athletes grow up, right alongside our kids and we feel like we really like universal moms," said Jacqui White.  "We give them praise, we also tell them if we think there's something they shouldn't do, give them advice, give them hugs when we think they need it."
"I've polished other girls' skates," said Cheryl Davis.
"When there's not moms around, or you don't have a support system around, we make sure when they take their bows, even at practice, we're the two up there going 'Yay,' you know, and clapping for them," said Cheryl Davis.
"And they look for us," said Jacqui White.
"And they know we're there for them," said Cheryl Davis.
Davis and White will be in Sochi to see their children go for gold.   When they saw their children skate in Vancouver in 2010 they notice something about them before they took the Olympic ice.
"They came upstairs and they gave us a hug and they turned around and Jackie said something to me like "Should we be nervous that they're not nervous at all?" and so none of us were nervous. So it was just such a wonderful, warm, emotional feeling to be at the Olympics and to have your kids at that level," said Cheryl Davis.
"The feeling of being there was just the icing on the cake. We got there, that was such a huge accomplishment to make it to the Olympics. I mean that's a dream for an athlete," Jacqui White said.
The nerves will definitely be present in Sochi.  
"There will be a lot of pressure and I feel like the kids will feel it, but I feel like they will be ready," said Cheryl Davis. "They are always well-trained and that is something out of our control which is great because if it were in my control I would be more nervous."
Davis said it makes them less nervous for these Winter Games know their children's work ethic  and knowing they are ready to compete at this level.
The strong bond between Davis and White, almost as if they have been lifelong sisters, is evident as they talk about what's ahead for their children in Sochi, Russia and the potential of seeing them on the medal podium in a second Olympics.
"It's just so emotional that I don't think anybody ... see I'll cry now, can understand it unless they're there," said Cheryl Davis.
"I can," said Jacqui White. "I can understand it because we've been on the trip together. It's been a bumpy, sometimes roller coaster ride journey from the beginning to where they are now, and we never expected it. We just road along with them and sometimes we felt like 'Oh my God, can we even do this any more?' and they really pull us along."
"They bring such joy, it's not like, people say to us how much you sacrifice and I always say it was never a sacrifice because look what they brought to our lives," said Cheryl Davis.  "What did we really sacrifice? We had a ball.  The two of us have had the greatest times on these trips."
"Seeing them on that podium will be just, that will be the cherry on the icing," said Jacqui White.
"Right, exactly," said Cheryl Davis.
"That would be such an emotional high we wont even be able to hardly see it, we'll be crying so hard," said Jacqui Davis.
A high they will likely get to experience on February 17 when their children compete in the free dance part of the competition.  It will be after that round that the world will know who the new gold medal winners will be in Olympic ice dancing.
Meryl Davis and Charlie White have not said what their plans are after the Winter Olympics.   Both have said they will discuss it and decide their future together after the games in Sochi.

Copyright 2014 by ClickOnDetroit.com. All rights reserved. This material may not be published, broadcast, rewritten or redistributed.