Several tornadoes have made confirmed touchdowns in Michigan over the past couple of weeks, mostly in Northern, Western and Mid-Michigan areas.
While most of the tornadoes were on the weaker side, they still caused tree and house damage, as well as widespread power outages.
Related: Overnight storms spawned brief tornado touchdown in Taylor on Aug. 1
Here's a rundown of all the confirmed tornadoes around Michigan in recent weeks:
Tuesday, Aug. 28 storms:
A line of severe thunderstorms associated with a cold front raced across Northern Michigan during the evening hours. These thunderstorms produced widespread tree and power line damage.
Tornado - Alba
An EF-0 tornado touched down 3.5 miles south of Alba and followed a discontinuous path to the northeast, lifting just before the Otsego County line. Damage was mainly to hardwood and softwood trees.
Tornado - 4 miles NE of West Branch
A brief tornado touched down 4 miles northeast of West Branch in central Ogemaw County. Damage was mainly confined to two homes along Mud Lake Road.
Tornado - 2.25 miles south of Au Gres
An EF-1 tornado briefly touched down roughly 2.25 miles south of Au Gres near the Point Au Gres Campground before lifting near the Lake Huron shoreline. Dozens of mature hardwood trees were snapped and uprooted.
Tornado - 3.75 miles northeast of Sterling
An EF-0 tornado briefly touched down along the Rifle River about 3.75 miles northeast of Sterling. Damage was mainly to hardwood and softwood trees.
Saturday, Sept. 1 storms:
Four tornadoes have been confirmed as of Sept. 4. Most of the damage was confined to trees and associated structural damage due to falling trees.
Some of the storms were well-photographed and had a visible structure resembling supercell thunderstorms, including rotating rain-free updraft bases, wall clouds, and brief funnel clouds. Such structures are relatively uncommon in Lower Michigan, at least on a widespread basis.
Tornado: Jackson
The tornado began at the western Jackson City limits and continued northeast to cross Washington Avenue. The tornado then weakened near the railroad tracks near Hibbard Avenue. Many trees or limbs were snapped and some trees were uprooted. Minor damage to structures was noted due to falling trees.
Tornado: Barry County
A very well-photographed supercell moved along northern Kalamazoo and far southwestern Barry counties. Radar indicated tight rotation though northern Kalamazoo County, but no damage was found during a ground survey. However, a path was found near Little Long Lake in Barry County where several trees and limbs were snapped.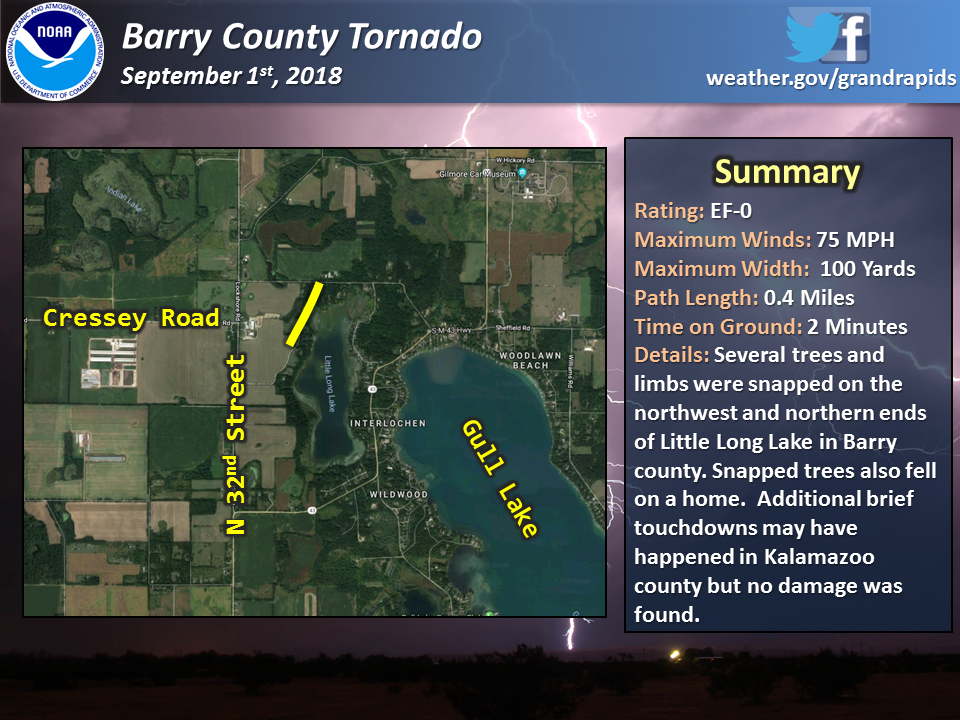 Tornado: Rural Mecosta County
This tornado occurred over rural parts of Mecosta County. A manufactured home was destroyed at the start of the damage path near Washington Road and 137th Avenue. The tornado then snapped trees along Washington Road before lifting at 125th Avenue.
Tornado: Bath Township
A tornado cut a four-mile long path through Bath Township, causing tree damage and damaging buildings. The tornado touched down for 10 minutes with wind speeds up to 80 mph.

Enhanced Fujita scale rates the intensity of tornadoes:
EF5: >200 mph
EF4: 166–200 mph
EF3: 136–165 mph
EF2: 111–135 mph
EF1: 86–110 mph
EF0: 65–85 mph
Sources: National Weather Service Gaylord, Grand Rapids
Copyright 2018 by WDIV ClickOnDetroit - All rights reserved.