Scattered overnight snow showers gave a few of us a very light dusting, while many of us received little or no snow.  But all of us got the wind and cold, and this will be with us through the day ahead.  Any lingering, scattered snow showers should end this morning, leaving us with mostly cloudy skies (meaning a few breaks of sun).  It'll be breezy and cold, with highs only in the low 30s (-1 degree Celsius).  West wind at 15 to 25 mph will keep wind chills in the teens – dress for teens if you'll be exposed to the elements for any length of time.
Today's sunrise was at 8:02 AM, and today's sunset is at 5:10 PM.
Clouds prevail tonight, with lows in the mid 20s (-4 degrees Celsius).  One thing to keep an eye on:  a warm front sliding eastward across mid-Michigan overnight could bring some snow to Sanilac County and north and west of there.  Right now, it doesn't appear to be more than a half-inch for Sanilac County, but I'll continue to monitor.  Wind shifting to the south at 10 to 15 mph.
New Year's Eve Day will feature an area of low pressure crossing northern Michigan, and its associated cold front crossing our area in the late afternoon.  The front won't have much moisture with it, and new computer models just in suggest that there will be no rain showers ahead of it, and only a few scattered, brief, light snow showers and flurries behind it – and those should be gone by 8pm with no impact on our roads.  Warm air surging northward ahead of the front will push highs to near 40 degrees (4 to 5 degrees Celsius).  HOWEVER, it's going to become quite windy, as southwest winds of 20 to 30 mph are certainly attainable, with gusts approaching 40 mph not out of the question.  If those gusts materialize, then some scattered power outages are possible, as we saw a few nights ago.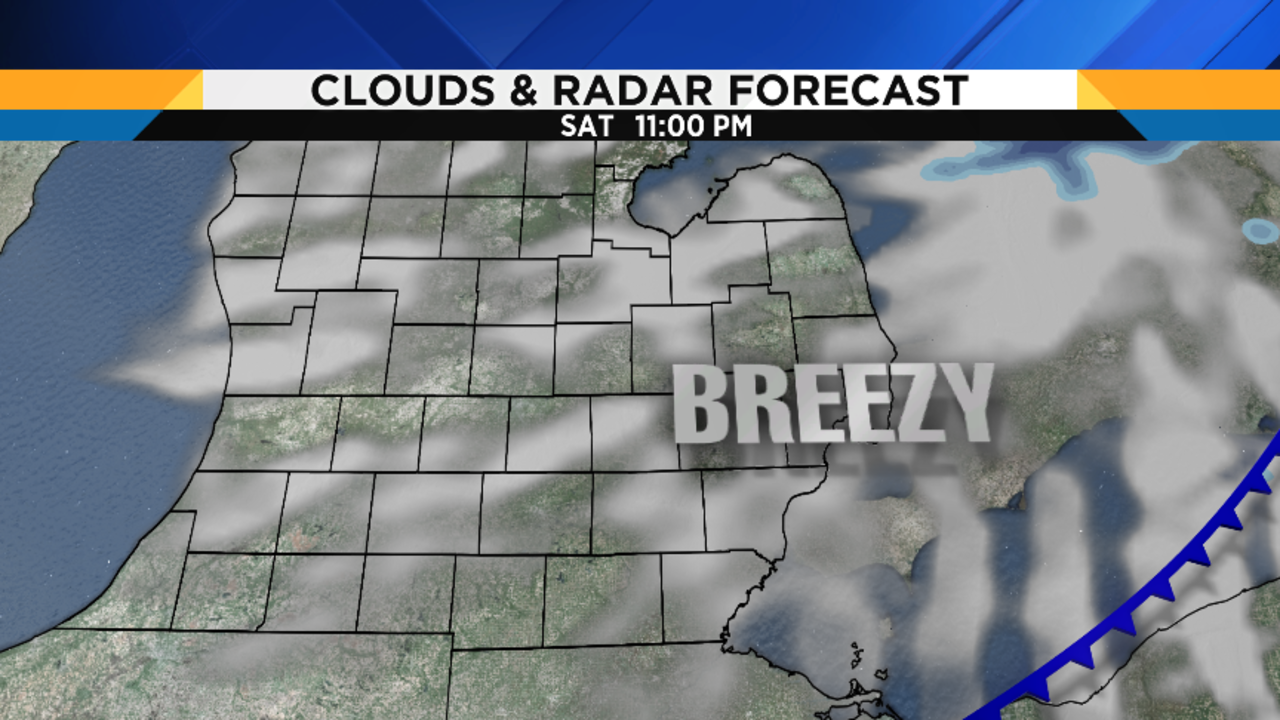 New Year's Eve itself looks mainly dry, with only the above-mentioned few flurries or brief inconsequential snow showers possible early in the evening.  Wind won't be as strong as during the day, but it'll still be breezy, with temperatures falling through the 30s into the mid to upper 20s after midnight (2 to -3 degrees Celsius), and wind chills falling into the teens (-8 degrees Celsius).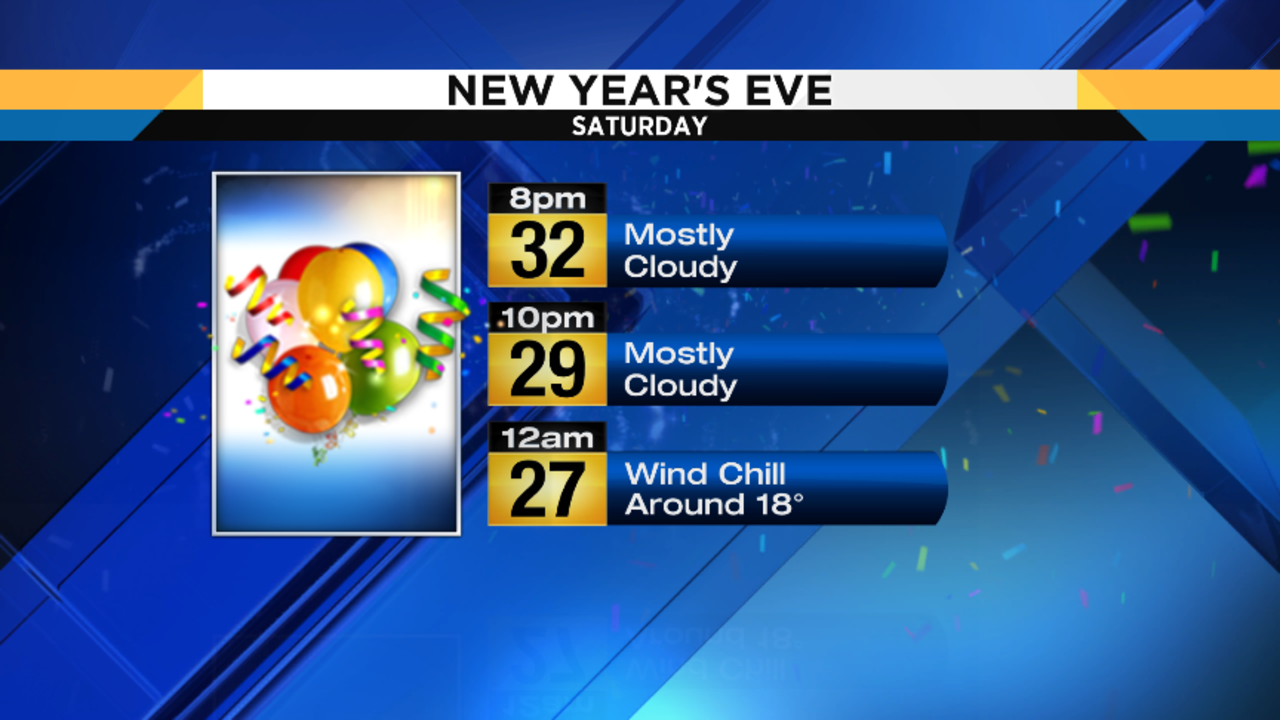 Dry roads are great news…there's a reason that New Year's Eve is called "Amateur Night."  If you'll be out celebrating, PLEASE don't get behind the wheel.  Have a designated driver in your group (I was always that person when I went out, and I had just as much fun as everybody else).  Or call one of the ride services, such as Uber and Lift.  But don't drive drunk. 
Also, let's not fire guns up into the air at midnight Saturday night.  What goes up must come down, and those falling bullets have a terminal velocity of 125 mph.  I've seen photos of holes in cars from falling bullets, and heard reports of people actually being injured.  If you are caught firing a gun up in the air and it's proven that your falling bullet did damage or hurt someone, you'll be in a heap of trouble…and your lawyer won't be cheap.  Think twice about firing that gun at midnight.
New Year's Day will be partly cloudy, with highs in the mid 30s (2 degrees Celsius).  And not only is it New Year's Day, it's also one of the most incredible days any Detroit television station has ever had.  You can watch the Red Wings in the Centennial Classic starting at 3:00 PM here on Local 4, followed by Local 4 News at 6, and then the Lions/Packers Sunday Night Football game here on Local 4.  You might as well get the food ready now, settle into your favorite arm chair or couch, and plan on spending the day with us!
Rain develops Monday afternoon and continues into Monday night or early Tuesday morning.  Another surge of warm air will push temps into the 40s (8 to 9 degrees Celsius) Monday and Tuesday, before an Arctic blast takes hold with very cold weather for the rest of the week.