What happened to all of those creepy Michigan clowns?
Rash of clown-related crime hit Metro Detroit in 2016
DETROIT – It seems like a long time ago, but it was just a few months ago that clowns were seemingly invading Michigan.
In October 2016, Metro Detroit saw a rash of clown-related activity, including random, creepy clowns standing around in the middle of the night, and even bank robbers wearing clown masks.
The clown sightings died down after about a week or so, but we're left asking - what happened to all of those clowns?
They are still out there - doing clown related things, like wearing large shoes and cramming into small cars.
Are these clowns waiting for October to roll around again? What do they want? And when do they want it?
We have many questions - but for now - take a look back at the clown mania that had us all asking the same question: seriously?
PAST CLOWN STORIES
The creepy clown epidemic has apparently spread to Metro Detroit.
In a video posted to Twitter in October, a creepy clown is seen standing near a car wash, waving to the person shooting the video. (Scroll down for video)
The tweet says, "We just saw this clown on Cass and Moravian. He tried to follow our car. This is getting insane."
The video was posted on Oct. 2, around 2:45 a.m. - it has since been retweeted more than 6,000 times.
Cass and Moravian is Clinton Township, Michigan. Police are not currently investigating any clowns in the area.
The creepy clown problem has been causing issues around the country. 
The trouble started when residents of a South Carolina apartment complex began telling their landlord that loiterers with blinking noses and big shoes were lurking in the woods near the building, flashing laser lights, offering money to kids and traipsing into the dumpster area late at night. 
Just as things began to calm down in South Carolina, more clusters of clown sightings were reported in neighboring North Carolina, leading to one incident in which a would-be vigilante claimed he grabbed a machete and chased a rogue funnyman.
Check out the video below. (Warning: Some of the language used is strong)
This sighting was just the beginning of the clown-related crimes that hit Metro Detroit.
Read on to learn more about the rash of clown incidents.
Sterling Heights police reported two separate incidents Oct. 4 involving men dressed as clowns scaring or attacking residents.
A boy was injured Oct. 4 evening by a man dressed as a clown in the Sterling Estates mobile home park, police said.
Police said the clown placed a butter knife on the boy's arm. It's unclear if the clown purposely cut the boy or if the boy was cut when he moved away from the knife.
"He had red hair and a red nose and a mask on," Justin said. "He grabbed my wrist and then he used the other hand to, he dragged the knife on my arm slowly."
The incident happened around 7 p.m., police said.
Sterling Heights detectives are investigating at the scene. Tracking dogs are out and detectives are on the street searching for the man. Police said clown sightings are no longer amusing.
Justin's mother called police. Shortly after she called 911, about two miles away, another 911 call came in from two women.
The women reported that three men dressed as clowns scared them with baseball bats. The women said the clowns lunged at them, so they took off.
Sign up for ClickOnDetroit Email Newsletters (click here) for more stories like this.
A person wearing a clown mask and armed with a pistol robbed a Walgreens the night of Oct. 4 in Brownstown Township.
The robbery happened at about 9:30 p.m. at the Walgreens on Telegraph Road, according to Brownstown police.
MORE: Detroit police frustrated by crimes involving fake clowns
The clown entered the store and raised the gun up, robbing the clerk and fleeing in an SUV.
The clown was wearing a black hooded sweatshirt, dark pants and a mask.
Police also say the clown pointed his gun at two customers on the way out, telling them to get back in their cars.
RELATED: Creepy clowns now menacing children in Georgia as sightings expand
The armed robbery happened just hours after a boy in Sterling Heights was attacked by a man dressed as a clown and two women were frightened by an alley of clowns with baseball bats.
Over the weekend, a clown was spotted waving at cars in Clinton Township which had residents on edge.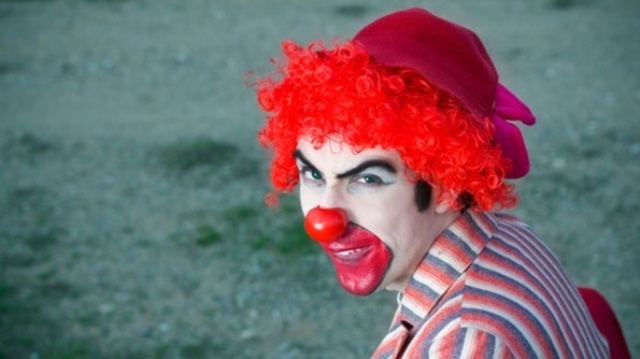 Two robberies involving people dressed as clowns took place in Ann Arbor the night of Oct. 4 between 10:30 p.m. and 11 p.m., police said.
The first incident took place at a BP gas station on the 3700 block of Washtenaw Ave at 10:35 p.m. The second took place at a Dominos Pizza on the 2600 block of Plymouth Road.
Police believe the incidents are connected.
In both cases, the person displayed a handgun and cash was taken. Police also say they were dressed as clowns in both robberies.
No injuries were reported.
Police are investigating an armed robbery at a hotel the morning of Oct. 6 in Livonia involving a person wearing a clown mask.
The armed robbery happened at the Embassy Suites on Victor Parkway at 7:12 a.m.
A man in a clown mask entered the lobby and robbed guests, taking a purse and wallet. The hotel was also robbed.
The gunman was described as black and was wearing a black hooded sweatshirt, gray sweatpants and a clown mask. It is believed he was using a blue car to flee the scene.
READ: What's with all the clowns everywhere? 6 legit possibilities
Authorities said the robbery and description matches similar incidents across Metro Detroit. Livonia police is contacting other departments to coordinate an investigation.
Embassy Suites released the following statement:
"Earlier today, the Embassy Suites by Hilton Detroit Livonia Novi was among local businesses recently targeted in robberies involving clown-masked perpetrators. The hotel staff and leadership team immediately implemented proper protocols to ensure guest and staff safety and is fully cooperating in police investigations following the robbery. We are unable to provide any further details regarding the investigation. Hotel safety is of upmost priority for our hotel brand, ownership and management and in the wake of this event, our team will continue to take all steps necessary to ensure we are providing our guests and hotel staff with the safest environment possible."
No other information is available.
A Walgreens in Brownstown Township was robbed by an armed clown on Oct. 4. Hours later, a boy in Sterling Heights was attacked by man dressed as a clown and two women were frightened by an alley of clowns with baseball bats.
Two robberies involving people wearing clown masks also occurred on Oct. 4 in Ann Arbor. A BP gas station and a Dominos Pizza were robbed and police believe the incidents are connected.
Shots were fired at Livonia police the morning of Oct. 6 during a pursuit after a hotel robbery, according to police sources.
The robbery occurred at the Days Inn in Livonia. Sources say the man was wearing a clown mask.
The gunman was driving a blue Chevy Malibu and a police pursuit was underway, leading officers across several cities. The Malibu has no license plates.
Dashcam video shows the cars hitting speeds of more than 90 mph. The Malibu turned right in front of a Livonia police officer and the chase was on.
WATCH: Man wearing clown mask arrested in Houston park
Sources say shots were fired at police officers while the chase continued along Merriman Road and Ann Arbor Trail. Witnesses say they heard multiple gunshots.
Nobody was hit by the shots and there were no injuries in the chase, police said.
The gunman escaped, sparking a massive manhunt. Police believe he's the same man in a clown mask who robbed a BP and a Domino's in Ann Arbor late Oct. 4. He's also believed to have hit a Walgreens in Brownstown Township Oct. 5 and the Livonia Embassy Suites in Livonia the morning of Oct. 6.
"A clown guy with a clown costume on," a hotel desk described.
Surveillance video from the hotel shows a blue Malibu arriving and a man in a hooded sweatshirt getting out of the driver seat and enters the hotel.
Once inside the hotel lobby, the man can be seen standing at the front counter pointing a gun. The man walked around the lobby, pointing the gun out in front of him.
You can watch the surveillance footage and read much more about this story by clicking here.
"He said, 'Give me all the money, give me all the money,'" Kush Solanki, the Days Inn manager, said.
"I was so afraid of that," Sid Babburi, who works at the Days Inn front desk, said. "This is the first experience with that."
This time, it was the robber who got scared and ran out without any money. But he's still out there.
Afterwards, video shows the man back in the Malibu, pulling away from the hotel lobby.
The University of Michigan – Dearborn sent a security bulletin to staff and students urging caution after a clown was seen on campus late at night on Oct. 4.
The clown was observed near a row of trees in the field between the University Center and the Mardigian Library.
He was described as being 6 feet tall with an average build and was wearing dark clothing and a white clown mask.
It's unknown if the clown was a student or unconnected to the university.
A woman, 44, was carjacked in Madison Heights on Oct. 6 by an armed man who was wearing an orange pumpkin mask and a black hooded sweatshirt, police said.
The woman was carjacked near the Sona Pharmacy at 27745 Dequindre Road. She said she was sitting in the driver's seat when the man pointed a handgun at her and stole her purse and her Lexus.
He was last seen driving the Lexus south on Dequindre Road. The Lexus was last seen in Ohio and still has not been recovered.
Two 18-year-old women dressed as clowns were arrested the night of Oct. 6 in Roseville after allegedly chasing two 14-year-old girls.
Jamie Salinis and Elandra Sledge, both of Roseville, were charged with misdemeanor disorderly conduct.
According to police, the clowns jumped out of a vehicle in the 18000 block of Minnesota Street and chased the girls, saying they were going to kill them.
The girls ran away and went to the Roseville Police Department at about 9 p.m.
Officers went to the area and found "two idiots" dressed as clowns and they attempted to flee on foot, police said. A foot chase ensued and both individuals were taken into custody.
POLICE: Teen asked clown on social media to kill her teacher
Police said the women were dressed in clown regalia from head to foot and stated they thought it was "funny to terrorize unsuspecting pedestrians."
Man suspected in string of clown-masked robberies hits Madison Heights hotel
A man who wore a pumpkin mask to steal a woman's car in Madison Heights on Oct. 6 is suspected of wearing a clown mask to rob the Extended Stay hotel at 32690 Stephenson Highway.
Police said a man wearing a clown mask walked into the Extended Stay hotel at 6:20 a.m. armed with a handgun. The man forced the hotel night clerk to give him money from the cash drawer before fleeing in an unknown direction, police said
Officials said the clown robber matches the description of a carjacker who stole a woman's Lexus in the 27700 block of Dequindre Road in Madison Heights. The man in that incident was also armed with a handgun, but was wearing a mask that looked like a pumpkin, police said.
READ: Schools asked to ban clown costumes amid investigation
A 44-year-old woman was sitting in the driver's seat of the Lexus when the man walked up with the handgun and took her car and purse.
The man fled in the Lexus, heading south on Dequindre Road, police said. The Lexus was last seen in Ohio and still has not been recovered.
The man is also believed to be connected to robberies in Brownstown Township and Livonia. Madison Heights police investigators, Oakland County Sheriff's auto theft investigators and the FBI are involved in the investigation.
Clown headlines
Copyright 2017 by WDIV ClickOnDetroit - All rights reserved.
---
About the Authors: