DETROIT – Wayne County Executive Warren Evans is reviewing two final proposals for the unfinished county jail along Gratiot Avenue. 
Evans' office said he has received a final proposal from Walsh Construction and a "comprehensive enhanced" proposal from Dan Gilbert's Rock Ventures to build a new Criminal Justice Center, which would cost more than $520 million. 
"The goal was to provide the County with alternative solutions to the jail project and we've done that. We're finally able to fully evaluate the proposals and pursue what's best for Wayne County," Evans said. "We'll work diligently to move this forward as quickly as we can.  Just like everyone else in Wayne County, I'm tired of talk. I want the jail project resolved."
The costs for Wayne County's new jail at the Gratiot Avenue site grew under former executive Robert Ficano. Evans and the County Commission have been trying to come up with the proposal that hits county taxpayers the least.
Gilbert said he'll build the county its new criminal justice complex on East Forest Avenue if the county will give him the $380 million it would take to complete the failed jail site and give him the Gratiot Avenue land for a new Major League Soccer stadium and entertainment district.
READ: Dan Gilbert, Tom Gores submit application to bring Major League Soccer to Detroit
The proposals:
Walsh's proposal includes two jail options at Gratiot Avenue with about 1,608 beds at $269 million and 2,200 beds at the cost of $317.6 million, according to the county executive's office.
Gilbert's proposal is more than $520 million
Meanwhile, the Rock Ventures' proposal offers to build the county a new Criminal Justice Center with a 2,280 bed jail, criminal courthouse, prosecutor offices, sheriff administrative offices and a juvenile detention facility at an approximate cost of $520.3 million. Wayne County would be responsible for $380 million plus the cost of acquiring the land and Rock would be responsible for cost overruns. 
The proposed site of the Criminal Justice Center is on about 13 acres of land owned by the city of Detroit bounded by the I-75 Service Drive, E. Warren Ave., E. Ferry, Russell and Frederick, pictured here:
In exchange for this, Gilbert's Rock Ventures would get the Gratiot Avenue site so he and Detroit Pistons owner Tom Gores can build a mixed-use development, which likely would include a professional soccer stadium. 
Rock's initial proposal was to build the County a 1,600 bed jail, criminal courthouse, prosecutor offices, sheriff administrative offices and a juvenile detention facility on an alternative site, if the County paid the first $300 million and an undetermined amount for operational savings.  Rock estimated the cost of the project at $420 million and promised to cover any cost overruns. Rock's initial proposal included an option to increase the jail to 2,000 beds, but required the County spend an additional $43 million above the $300 million.
Here's the Gratiot Avenue site: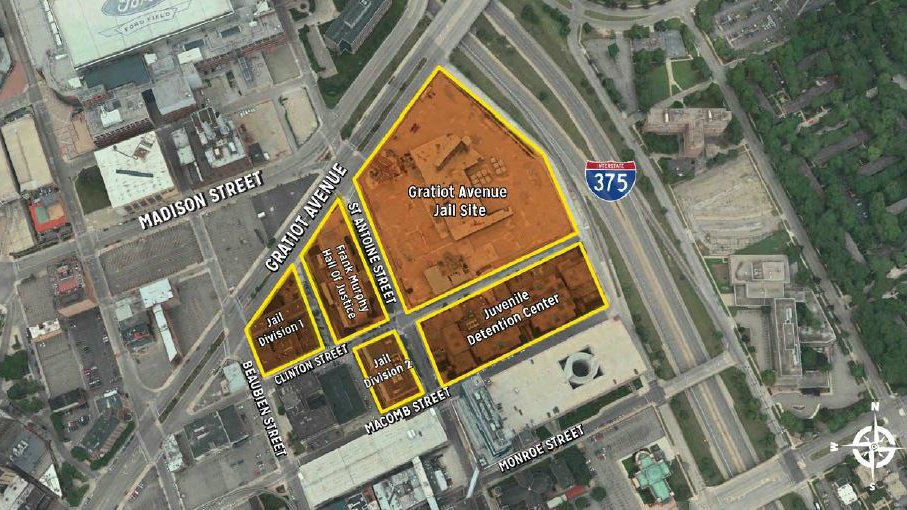 Evans: 'It's not about soccer and politics'
"The logic has always been clear to me. It's not about soccer and it's not about politics. It's about a county, with very real fiscal limitations, financing a desperately needed jail which has already cost taxpayers millions," Evans said. "This decision is solely about what's best for Wayne County."
The county executive's office also said an IRS decision relating to the appropriate use of jail bond proceeds on an alternative site to Gratiot Avenue remains pending.
"Without a favorable decision from the IRS, no agreement between the county and Rock to construct a Criminal Justice Center on an alternative site is possible. The county, however, is optimistic that the IRS decision will not result in an insurmountable obstacle to this project and therefore will still consider Rock's proposal an option," a statement from Evans' office reads. 
Evans' recommendation expected by late July
After evaluating the two proposals, Evans's office said he will recommend which one the county moves forward with. That recommendation is expected by late July.  Whichever proposal is selected will require extensive negotiations to determine if a final contract can be reached. If a contract is reached, it must be submitted to the Wayne County Commission and Wayne County Building Authority for approval.   
You can view the full Rock Ventures Wayne County Jail proposal below:
You can view the full Walsh Wayne County Jail proposal below:
Sign up for ClickOnDetroit breaking news alerts and email newsletters