AUBURN HILLS, Mich. -
Oakland County Executive L. Brooks Patterson is recovering after a serious car crash at Walton Boulevard and Opdyke Road just east of Interstate 75 in Auburn Hills.
Patterson's driver, 60-year-old James Cram, a retired Michigan State Police trooper, was critically hurt in Friday's crash.
Patterson, 73, also was taken to the hospital with serious injuries. He underwent surgery Friday night. Auburn Hills police said Patterson suffered serious but non-life-threatening injuries.
Local 4 has learned he suffered a broken femur, broken wrists and a gash to his head.
Police say the county executive's vehicle, a black Chrysler 300, was traveling eastbound on Walton Boulevard about 4:45 p.m. Friday when another car, a blue Volkswagen Passat, which was turning left at the intersection collided with Patterson's vehicle. Patterson was in the front passenger seat of the Chrysler. The Passat ended up hitting a street sign.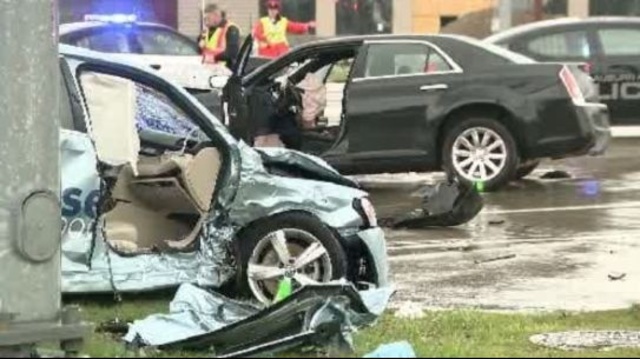 The airbags deployed in the Chrysler which sustained heavy front-end damage.
The driver of the Passat, a 31-year-old Royal Oak man, also was hurt. His injuries were minor and not life-threatening. His passenger, a 51-year-old Fraser man, was seriously hurt but in stable condition Friday night.
Just the two cars were involved. The intersection was shut down for about 2 hours.
Cause of crash under investigation
There were reports of a power outage in the area, however, Local 4 is told the traffic lights were working at the time of the crash. The crash also happened during moments of on-and-off heavy rain in the area. However, police say the weather was not a factor in the crash.
A preliminary investigation suggests Cram was not at fault.
"Preliminarily, it appears that Mr. Patterson's car was on a green light and there was a flashing yellow light for the westbound lane," said Thomas Hardy, deputy director for the Auburn Hills police.
Auburn Hills police the South Oakland County Crash Investigation Team are handling the crash investigation. The Auburn Hills Police Department said alcohol and drugs do not appear to be a factor in the crash.
There has been an outpouring of support for Patterson.  A spokesperson for Patterson says so many flowers have been received that there isn't anywhere to put them. 
Instead, if you want to show your support for Patterson, you're asked to make a donation to the Brooksie Way Half Marathon and 5K, which is named after Patterson's late son.  The event is taking place in September at Oakland University.  For more information about the event, click here.
Copyright 2012 by ClickOnDetroit.com. All rights reserved. This material may not be published, broadcast, rewritten or redistributed.