WEST BLOOMFIELD, Mich. - A 12-year veteran officer of the West Bloomfield Police Department has been killed in a shooting involving a barricaded gunman.
Police said 39-year-old Patrick O'Rourke was responding late Sunday night to the report of shots fired at a home on Forest Edge Lane, which is near Pontiac Trail and Halsted, when shots were exchanged and he was hit.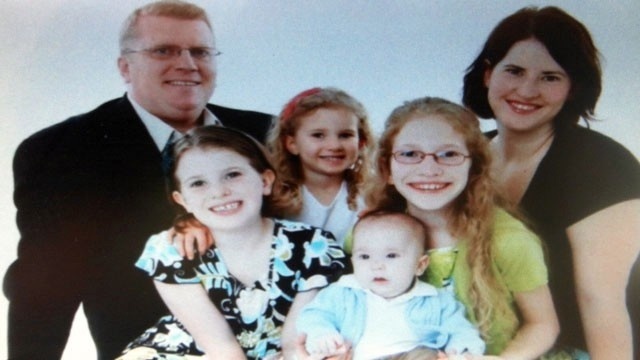 -- O'Rourke with his wife Amy and their three children, Eileen, 10, Mary, 8, Andrea, 5, and Stephen, 8 months
O'Rourke, also a father of four, was taken to McLaren Hospital, where he was pronounced dead. This is the first time in the West Bloomfield Police Department's history that an officer has been killed in the line of duty.
A vigil will be held 7:45 p.m. Tuesday in front of the West Bloomfield Township Police Department on Walnut Lake Road.
"The Police Department is establishing a fund to help the family of Officer O'Rourke," said Township Clerk Catherine Shaughnessy.
Read more: West Bloomfield standoff is at home of financial executive
Gunman barricaded in home
Lt. Timothy Diamond said O'Rourke was part of a team of four or five police who responded to a 911 call that a man had tried to kill himself or needed medical attention. They called the man's name as they climbed the stairs to the second floor and "were met by shots fired through the bedroom door and the drywall," Diamond said.
The gunman was inside the home and police had the area blocked off and evacuated. Sources say the gunman shot at a police robot that had been sent to the scene.
For 20 minutes at about 8:30 a.m., three rounds of dozens upon dozens of shots could be heard coming from the area of the police and gunman.
Local 4 has learned that the gunman fired again and the police returned dozens of shots if not more than 100 – they have resulted in nothing – not resolving the stand off.
Sources tell Local 4 the gunman was armed with at least two high-powered assault rifles.
Diamond said the suspected gunman was involved in a "divorce situation" and two other people escaped from the home before a 911 call.
The Michigan State Police bomb squad and Oakland County Sheriff's Office are on the scene.
Food, shelter and portable toilets have been brought in for officers.
Statement from West Bloomfield Police Department
"It is with deep sadness that the West Bloomfield Police Department must report the death of Police Officer Patrick O'Rourke.  Officer O'Rourke was fatally shot while investigating a "shots fired" complaint in the 4000 block of Forest Edge in West Bloomfield Township.  Officer O'Rourke, age 39, was a twelve year veteran assigned to the patrol division.  During his career, Officer O'Rourke was honored with a Lifesaving Award, three Certificates of Merit, and three Unit Commendations.  He was a model police officer, a dedicated husband and father, and a great friend to all who knew him.  He is survived by his wife and four children."
Nearby residents evacuated from their homes
About 30 people were taken from their homes and were being held at the township's offices.
One neighbor Local 4 spoke with said the neighborhood was full of diverse families and she had never heard of any trouble.
"It's just something you don't expect. You're sleeping and then all of a sudden you've got knocks on your door and you have to get dressed quickly and you're being driven away in a humvee. You're like, 'I'm in West Bloomfield,'" said Lori Sellman. 'It's crazy, it's like you're in a movie. You don't expect something like this and it's very sad. We feel very badly for the police officer that was shot and I feel badly for the family that's going through this."
The residents are being held away from their homes until the situation has been resolved.
Homeowner's business under investigation
Local 4 has learned that the homeowner, Ricky Coley, who has not been confirmed to be the gunman, is a business owner that is being investigated by the federal government.
Copyright 2012 by ClickOnDetroit.com. All rights reserved. This material may not be published, broadcast, rewritten or redistributed.