DETROIT – Bedrock's plan to redevelop four buildings in Downtown Detroit cleared a final hurdle this week.
Tuesday, the Michigan Strategic Fund (MSF) provided the final approval for Bedrock's use of the MIthrive financing tool, clearing the final hurdle that locks in $2.15 billion in new investment in Downtown Detroit.
As a result of its support for these four projects through the MIthrive program, which is projected to total $618 million in foregone tax revenue over approximately 30 years, the State of Michigan is expected to realize $2.5 billion in new tax revenue over the same period. 
Related: Amazon to open its fourth Michigan warehouse, creating 1,000 jobs
"These landmark developments are a milestone representing Detroit's credible new era of hope, optimism and growth," said Dan Gilbert, Bedrock Founder and Chairman. "This process has been an outstanding example of collaboration between multiple levels of government and private industry that will unleash billions of dollars of investment, resulting in transformational impact to Detroit, the region, and the entire state of Michigan. Governor Snyder and the Michigan Strategic Fund were instrumental in getting these monumental projects to the finish line. I want to thank the Governor, MSF, and all of our local and state partners for their strong support and commitment to Detroit and the state's transformation." 
Bedrock's four projects will support an estimated 22,000 new jobs – 15,000 jobs related to the construction of the projects, and over 7,000 new permanent, high-wage jobs occupying the office, retail, hotel, event and exhibition spaces, according to a release. 
Construction has already started on the Hudson's site and Book Tower, and the Monroe project and the One Campus Martius will be underway later this year.
Here are some of the updates and renderings released last year for various developments:
Hudson's site (Woodward Avenue)
The approximately $900 million, 1 million square-foot redevelopment of the iconic Hudson's site will create a landmark attraction and make Detroit a national and international visitor destination. The project includes the tallest tower in the City of Detroit, complete with a publicly accessible sky deck on top of the residential floors. It also includes dynamic restaurant, retail and office space, and extensive exhibit and public space that will be open to all. More on this here.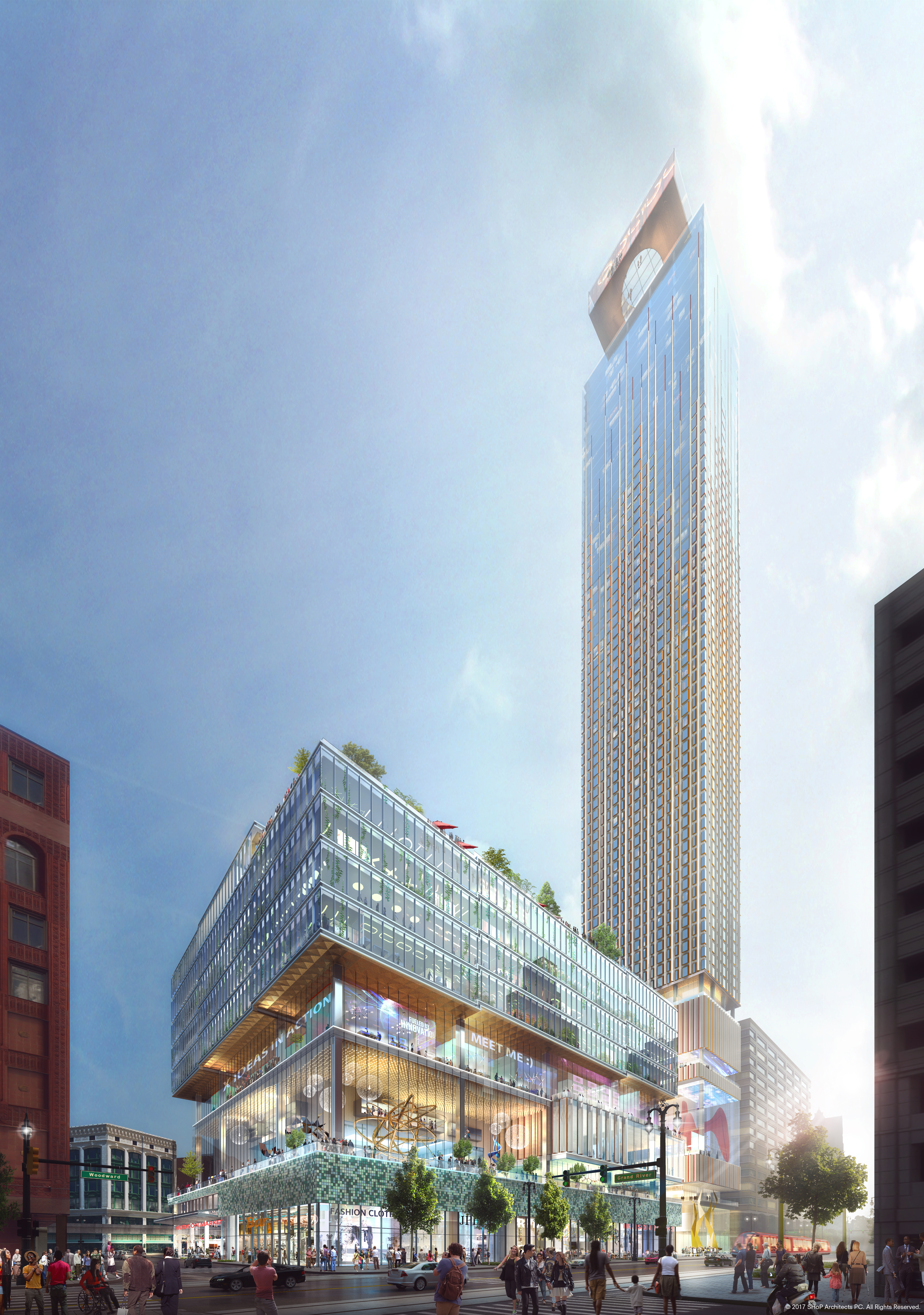 Monroe Blocks (Greektown/Campus Martius)
The $830 million transformation of the Monroe Blocks between the Greektown district and Campus Martius Park will deliver a 35-story, 814,000 square-foot office tower to attract leading companies and jobs to Detroit, 482 residential units, vibrant restaurants and retail, and three public plaza spaces for all to experience.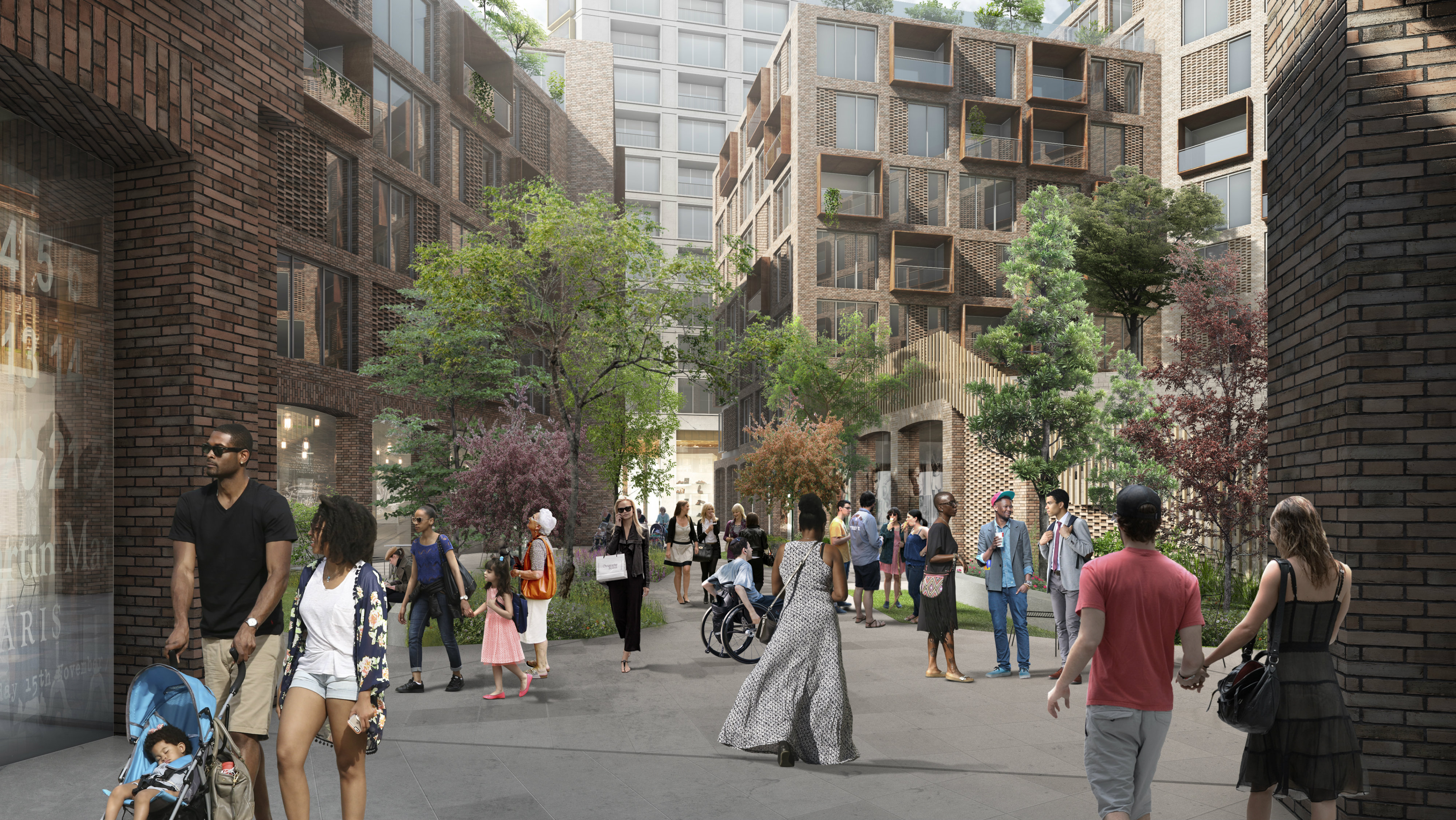 Book Tower (Washington Historic District)
The $313 million rehabilitation of the Book Building and Tower will be one of the most significant historic rehabilitation projects ever undertaken in Detroit and bring one of the City's most treasured buildings back to life with a combination of 95 residential units, 180,000 square feet of retail and office space along with a planned hotel.
One Campus Martius Building (Former Compuware Building)
The $95 million expansion of the One Campus Martius site will provide 310,000 square footage of critically needed office space so Detroit can continue to attract new companies and jobs and sustain its growth and momentum.
Detroit mayor Mike Duggan approves
"The economic impact this project will have on our city is larger than anything we've seen in generations," said Mayor Mike Duggan. "Not only will it produce thousands of new jobs and opportunities for Detroiters, it will reshape the city's skyline and attract even more re-investment in Detroit."
Together, these projects represent more than $2.1 billion in new investment in Detroit and will create a five-year construction pipeline with more likely coming from several other developers as well as Bedrock.
Here are some related stories to check out: