Detroit O'Reilly Auto Parts shooting suspect released; police release photo of new suspect
James Haller Jr. fatally shot during robbery at O'Reilly Auto Parts store
---
DETROIT – Police released a 23-year-old woman taken into custody Friday in connection with the fatal shooting of a manager at an auto parts store in Detroit after interviews with authorities revealed she was not affiliated with the crime.
UPDATE: Police release photos of new suspect in Detroit O'Reilly Auto Parts fatal shooting
Authorities continue to search for the two women involved in the robbery and a possible third person who acted as a getaway driver.
Detroit police released several photos of one of the women believed to have been involved in the shooting.
Shawnta Sharee Anderson is sought by police.
ORIGINAL REPORT: Police search for 2 women after employee killed during robbery at O'Reilly Auto Parts in Detroit
James W. Haller Jr. was shot and killed during a robbery Wednesday at the O'Reilly Auto Parts store on Schaefer Highway. He was gunned down at about 5:30 p.m.
Haller served as a Marine in the Vietnam War and was a retired assembly line worker at General Motors. He served with the Detroit Police Department as a reserve officer in the late 1970s. He was 69.
Surveillance video shows two women walking into the store and milling around before pulling out a gun and announcing a robbery.
The women were clearing out the cash register when Haller went to aide employees. A single shot was fired and Haller was killed.
"I'm so distraught, but not losing faith," the victim's daughter, Jaime Haller-Sharpe, said.
Chief Craig: We're going to find you
Detroit Police Chief James Craig held a news conference Thursday to discuss the case. Haller's family was present and pleaded for the women to turn themselves into police.
"Turn yourself in, because God's going to get you if the police don't. You have to pay for what you did," Haller's wife said. You took a father away. You took a husband away."
Craig called Haller an American hero and had a message for the women responsible.
"We're going to find you," Craig said. "Not only are we going to find you, but we're going to arrest you. It's just a matter of time."
Surveillance video shows robbery, shooting
Surveillance video from inside O'Reilly Auto Parts shows the robbery in progress and the moment Haller was fatally shot.
Other customers are shown taking cover on the floor and in the corner.
Rewards offered for information
A total of $12,500 is being offered for information that leads to an arrest.
Crime Stoppers is offering $2,500.
O'Reilly Auto Parts is offering $10,000.
Anyone with information is asked to contact the Detroit Police Department or Crime Stoppers at 1-800-SPEAK-UP.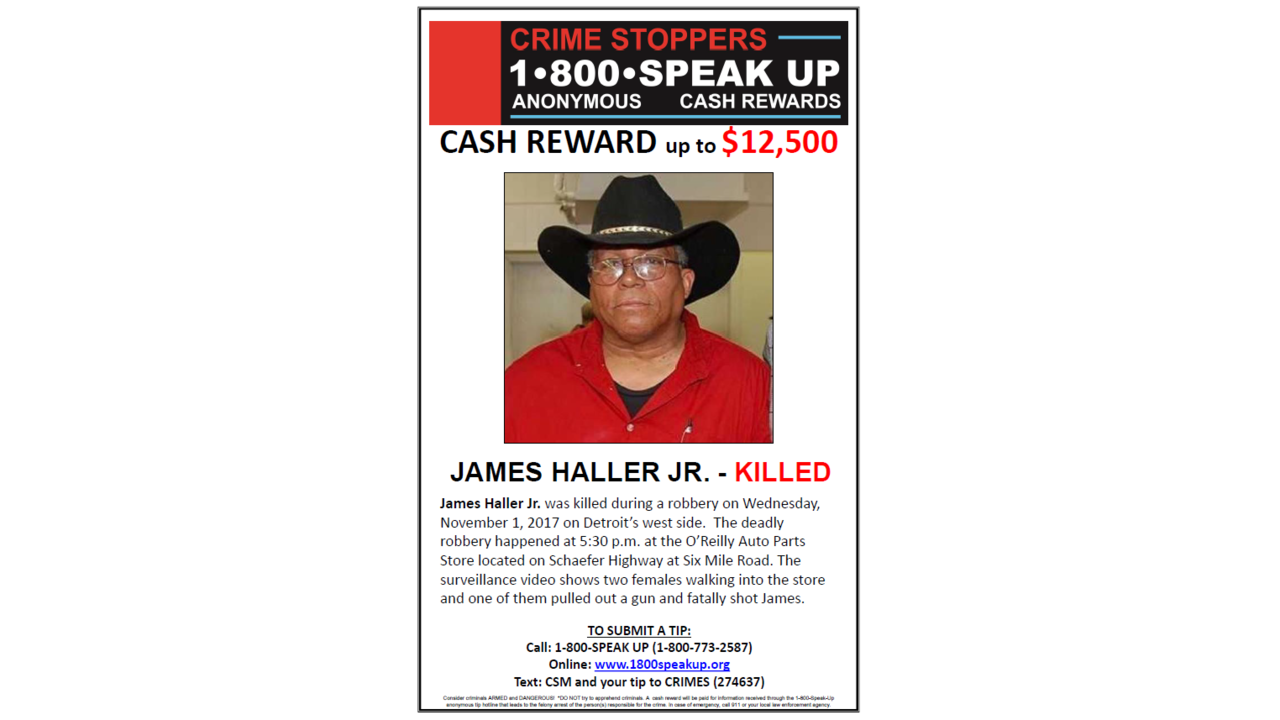 Funeral arrangements made
Funeral arrangements were made for Haller and the costs are being covered by O'Reilly Auto Parts and the VA.
Visitation is scheduled for Saturday, Nov. 1, between 1 and 5 p.m. at the Swanson Funeral Home on West McNichols Road.
The funeral will be held Monday, Nov. 13 at 10:30 a.m. at Star Zion Missionary Baptist Church on Ferry Park Avenue.
Copyright 2017 by WDIV ClickOnDetroit - All rights reserved.
---