61 years ago: Michigan's 'mighty' Mackinac Bridge opens to traffic
Historic bridge connects Michigan's Lower and Upper Peninsulas
MACKINAW CITY, Mich. – It may seem like the Mackinac Bridge has always been there, connecting Michigan's two peninsulas - but in fact, just 61 years ago, the bridge was nothing more than an idea.
The "Mighty Mac" opened to traffic on November 1, 1957 after decades  - yes, decades - of planning and proposals.
The suspension bridge is the world's 3rd-longest, spanning 26,372 feet from Mackinaw City to St. Ignance, Michigan. The bridge towers more than 550 feet with a 155 foot clearance below. The Mackinac Bridge is the longest suspension bridge in the western hemisphere.
The massive, historic manufacturing feat was a long, long process, dating back to the late 1800s.
Mackinac Bridge talk begins
In 1883, after the dedication of the Brooklyn Bridge, a store owner in St. Ignance reprinted an artist's conception of the New York structure in his advertising and called it, "Proposed bridge across the Straits of Mackinac."
In 1888, the Grand Hotel's board of directors held their first meeting, where its recorded in the minutes that Cornelius Vanderbilt II said, "We now have the largest, well-equipped hotel of its kind in the world for a short season business. Now what we need is a bridge across the Straits."
ALSO SEE: 90 years later: Michigan's Bath School disaster remains deadliest of its kind in US history
Between then and the 1920s, several ideas went back and forth, but they all centered around one goal: to connect Michigan's Upper and Lower peninsulas.
In 1920, a "floating tunnel" was proposed by the state highway commissioner. He invited other engineers to suggest ideas for crossing the Straits. Mr. C. E. Fowler of New York City came forward with an ambitious project to solve the problem with a series of bridges and causeways that would start at Cheboygan, some 17 miles southeast of Mackinaw City, traverse Bois Blanc and Round Islands, touch the southern tip of Mackinac Island, and leap across the deep channel at St. Ignace.
In 1923, Governor Fed Green ordered a study of bridge feasibility. Although the report was favorable, the project was eventually dropped and the idea, yet again, floated away.
In the 1940s, preliminary plans for a double suspension span were drawn and the possibility of a bridge became very real. But the Armies of Europe began to march and bridge progress came to a halt. Finally, in 1947, the State Legislature abolished the Mackinac Straits Bridge Authority.
1950s: Mackinac Bridge idea becomes reality
A new bridge authority would eventually be authorized by 1950, but with limitations. The law required the Authority to consult with three of the world's foremost long span bridge engineers and traffic consultants for advice on physical and financial feasibility.
Between 1952 and 1953, the Authority worked to secure funding for the bridge's construction, which they estimated would cost $86 million with financing and revenue bonds.
An effort to finance in June of 1953 was unsuccessful, but toward the end of the year the market recovered and $99,800,000 worth of Mackinac Bridge bonds were bought by investors all over the country. 
Mackinac Bridge construction begins
In 1954, construction on the bridge finally started. The bridge was designed by engineer David Steinman, who died in 1960.
Merritt-Chapman & Scott Corporation's $25,735,600 agreement to build all the foundations led to the mobilization of the largest bridge construction fleet ever assembled. The American Bridge Division of United States Steel Corporation, awarded a $44,532,900 contract to build this superstructure, began its work of planning and assembly.
ALSO SEE: Remembering America's worst tornado ever: The Tri-State Tornado of 1925
In U.S. Steel's mills the various shapes, plates, bars, wire and cables of steel necessary for the superstructure and for the caissons and cofferdams of the foundation, were prepared. The bridge was officially begun amid proper ceremonies on May 7 & 8, 1954, at St. Ignace and Mackinaw City.
Five men die during bridge construction
During the construction of the Mackinac Bridge in the 1950's, five men lost their lives.
One man died in a diving accident; one man fell in a caisson while welding; one man fell into the water and drowned; and two men fell from a temporary catwalk near the top of north tower.
Frank Pepper, Sept. 16, 1954

James R. LeSarge, Oct. 10, 1954

Albert Abbott, Oct. 25, 1954

Jack C. Baker, June 6, 1956

Robert Koppen, June 6, 1956
In 2004, MDOT and MBA unveiled a special plaque honoring those who died.
November 1, 1957: Mackinac Bridge opens to traffic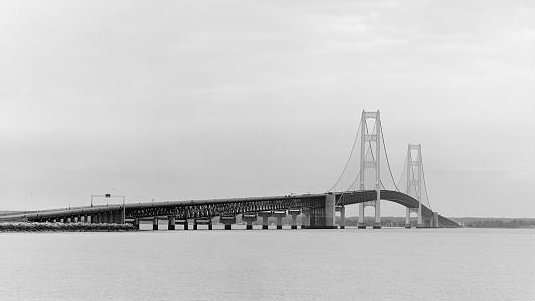 The bridge opened on schedule. In the end, the bridge cost around $100 million to build, over three and a half years, skipping the winter months. 
Today, the bridge toll is $4.00 for automobiles and $5.00 per axle for trucks. The bridge celebrated its 150 millionth crossing in 2009.
The bridge is an iconic Michigan landmark, drawing tourists from around the world every year.
ALSO SEE: When the 'Purple Gang' ruled Detroit
The annual Mackinac Bridge Walk, held every year since 1959 when Governor G Mennen Williams started it, draws thousands every Labor Day.
Mackinac Bridge facts and figures
Total Length of Bridge: (5 Miles) 26,372 Ft.

Total Length of Steel Superstructure: 19,243 Ft.

Length of Suspension Bridge (including Anchorages): 8,614 Ft.

Total Length of North Approach: 7,129 Ft.

Length of Main Span (between Main Towers): 3,800 Ft.    
Check out this History Channel special on the Mackinac Bridge:
One of Michigan's most popular tourist destinations is also one of its most haunted -- Mackinac Island.
The small island sits on Lake Huron, covering almost 4 square miles of land between the Upper and Lower Peninsulas of Michigan.
Sources: Michigan Department of Transportation, Library of Congress, Mackinac Bridge Authority
Copyright 2018 by WDIV ClickOnDetroit - All rights reserved.
---
About the Author: