DETROIT – A Metro Detroit woman said she keeps her teenage daughter out of state and away from home for her own protection.
"I had to make that choice: Miss her now or have her later on or, you know, don't have her at all. Period," the woman said.

The woman, whom we are calling Melissa to protect her identity and keep her daughter safe, sent her daughter to a facility in California that helps young girls after they have been involved in sex trafficking.
"You could have never told me this would have happened to me," Melissa said.
Melissa said her daughter was a good student and an athlete, and they are close. Until she disappeared, Melissa had no idea that her daughter had been caught up in a sex trafficking ring. She said it began on the dating app Tinder.
"From what I understand, a lot of high schoolers, you know, were going on there meeting. But she met a guy who she thought was like 18, but come to find out he was 40 years old," Melissa said.
Melissa said the man took her daughter out, bought her food and gave her marijuana.
"Then started off like, 'Oh, one of my friends has a big event they're going to, could you escort him? He just wants your company just because you're so funny. Could you just go? He wants to go to the movies. Could you just go with him? That's all you have to do.' They would give her like $40," Melissa said.
Melissa said it continued with her daughter going to the movies and going out to eat with the men, who would give her $40 or $50. Melissa said that after about six or seven times, her daughter was told that she had to sleep with the men.
It started around March 2016. Melissa said she knew her daughter had started smoking marijuana and was acting out. She took away her daughter's phone and tried to get her help.
Melissa had no idea what was really going on until Mother's Day weekend last year. She said they were barbecuing and her daughter was on the front porch, then she was gone.
Melissa said she reported her daughter missing to the Detroit Police Department, and her case was treated as a runaway.
A couple of days passed, and since she had her daughter's cellphone, something told her to turn it on. Melissa said her daughter had synced her phone to her iPad, which meant that she could see what her daughter was doing on the iPad on her daughter's phone.
"I started to see all these messages," Melissa said.
Melissa was shocked by what she was reading: "Are you still at the hotel room? How much money did you make?"
"I'll meet you at the hotel. I have $200 for you."
Melissa said she called Detroit police to report that she believed that her daughter was being prostituted. Determined to find her daughter, Melissa continued to contact different agencies and places for help as the days went on.
"I'm calling. I'm Googling. I'm losing my mind," Melissa said. "I'm seeing her phone and these messages, but I don't know how to contact her."
Then Melissa saw something that told her she had to act fast.
"One of the texts came through: 'We're about to take her out of town.' And I knew as soon as she left Detroit, that would have been the end of it," Melissa said.
She had already called Michigan State Police and was encouraged to attend its Missing in Michigan event. She went, taking her daughter's phone, and told her story to members of the Southeast Michigan Trafficking and Exploitation Crimes Task Force.
"They started scrolling through their phones and they came up to me and were asking me, 'Is this your daughter?' What they had accessed was something called Backpage, where they list these teenage girls for prostitution," Melissa said. "He sat there with me, the FBI agent, 'Is this her? Is this her?' I didn't know what they were doing, what they were pulling up, but after 15 pictures my daughter's picture showed up."
That was about 1 p.m. on a Saturday. She said agents told her to go home and keep her phone on. She said the FBI called by midnight to tell her that they found her daughter in a Macomb County hotel and she was OK.
Melissa said she was grateful that her daughter had been found alive.
Her daughter went into protective custody for a time, then she was returned home. Melissa said she was gone two weeks later.
"They threaten, 'If you don't come, I know where you live. I know where your family is at. We're going to do something to them if you don't come,'" Melissa said.
The task force found Melissa's daughter again, this time in a hotel in Dearborn, once again being sold for sex. Melissa knew she could not take her daughter home because she would be pulled back in again. She said that with the help of Wayne County Safe, she got her out of Michigan to a facility in California that helps victims of sex trafficking.
Melissa said her daughter is doing much better, but will not be returning to Michigan any time soon.
Melissa credits the Missing in Michigan Missing Persons Day event for saving her daughter. The event is for anyone who has a missing loved one.
Sgt. Detective Sarah Krebs, who organizes the Missing Persons Day, agreed that Melissa's daughter was taken out of her situation because of information that came out of the Missing Person Day.
"The investigators at the event were able to take her information, pick up and leave the event and go rescue that child," Krebs said.
The next Missing in Michigan Missing Persons Day is from 1 p.m. to 5 p.m. Saturday in the Franciscan Center at Madonna University in Livonia.
Krebs said families and friends affected by the disappearance of a loved one should attend the event as well as communities and organizations that assist to bringing them home.
"It's a wonderful day for the families of the missing. They get to interact with each other, sometimes for the first time ever finding another parent who has been through the same thing that they've been through," Krebs said.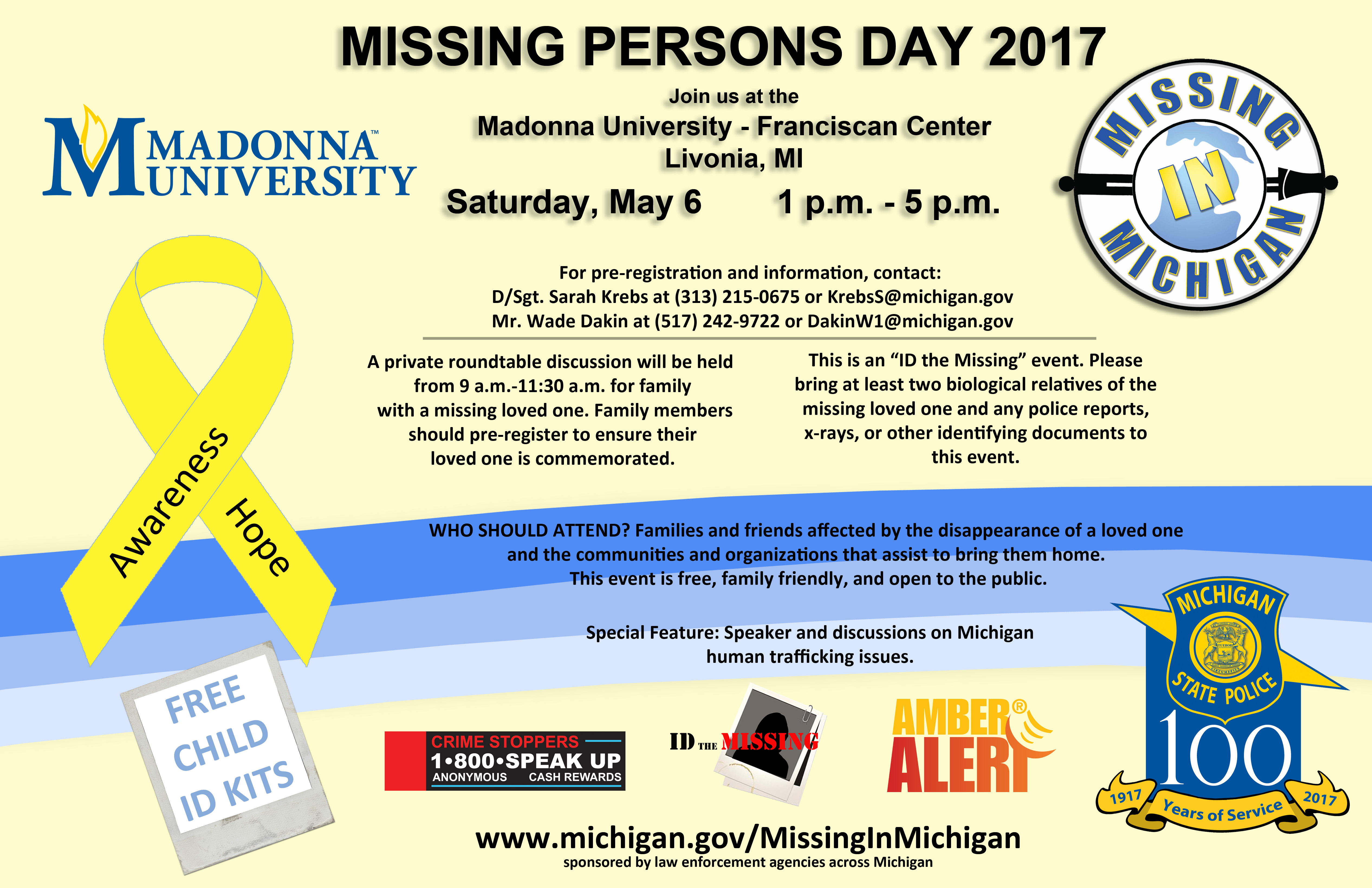 The event is free and family friendly. Child ID kits are available that families can use to have their children fingerprinted and get a DNA sample for parents to keep on file.
Krebs said Missing Persons Day is also an "ID the Missing Event," in which law enforcement collects DNA samples and makes sure cases are reported properly.
Investigators are also taking tips on old cases and information on new cases. Krebs said cases come in at many events that investigators are hearing about for the first time. People are encouraged to bring with them at least two biological relatives of the missing loved one and any police reports, X-rays and any other identifying documents.
To preregister. contact Krebs at 313-215-0675 or krebss@michigan.gov.
Family members of missing people should preregister to make sure their loved one is commemorated.
Melissa warned other parents to know what their children are doing online, what apps they are using and how.
"Look at their phones. Be aware who is picking up your kids. When you're at work, ask your neighbors. Know what's going on at your house, who is showing up at your house," Melissa said.