WESTLAND, Mich. -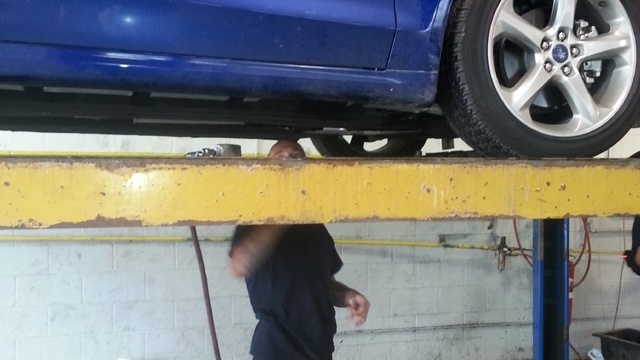 When a small animal gets caught in a wheel well, it doesn't always end as well as it did on Friday. But one little mask-faced, button-nosed kitten happened to be in the wrong place at the right time.
When Jessica Mix was driving down the road and heard a cat crying, she wasn't sure what was going on.
"I felt crazy at first," Mix said. "I thought it must be my radio, so I turned it off and knew I wasn't crazy because I still heard it crying and it wasn't getting farther away."
When a cat is stuck in a tree, you call the fire department. Who do you call when a cat is stuck in a wheel well?
After trying to find help from the Westland Police Department and Humane Society,  Mix decided to drive her car down the road to Taylor Ford.
"I pulled up and in ten minutes they got the car up on the jacks and got the cat out," Mix said. "They did an awesome job."
Bill McMullin and Manuel Chavez got the car into the air to get the pressure off the tires and removed delicate machinery with the skill of surgeons and freed the kitten.
Saving this kitten was a team effort. Mix got confirmation from a worker at Tim Horton's that the sound of a cat crying was coming from her car. Mix's husband then alerted the workers at Taylor Ford who were eventually able to remove the kitten from the car.
"It was nerve-wrecking. I was scared for the cat," Mix said. "Afterwards I could stop shaking and be thankful that it was over and somebody actually helped. There are still good people in the world that are willing to help. For a business, they're not supposed to be animal rescue, but they did today. People actually have a heart and care."
After the kitten was safe and in the care of Taylor Ford worker Mariah Dowling, Mix revealed that even though she wouldn't be keeping the cat, she had decided to call it Taylor, after the business that saved her.
"We were back here working on different cars and our adviser asked us if we could help pull a cat out of a car" Chavez said. "So we took pieces off of the car and worked the cat toward the front of the engine and hopped up there and he was sitting on top of the engine waiting."
The kitten appears to have escaped harm, except for some slightly burned whiskers. Considering the situation, this little kitten got off pretty well.
Copyright 2013 by ClickOnDetroit.com. All rights reserved. This material may not be published, broadcast, rewritten or redistributed.