Little Caesars Arena guide: Bag policy, lost and found, parking, maps and more
View specific guidelines and helpful information for new Detroit arena
DETROIT – If you're heading to Little Caesars Arena this fall there are some rules, tips, policies and guidelines you'll want to know before you enter the new venue. 
RELATED: Little Caesars Arena: See parking maps, inside concourse maps
Olympia Entertainment has provided an A-Z guide for the new arena -- view the whole guide here. Here are selected issues to be aware of: 
Animals
The only animals allowed inside Little Caesars Arena are those serving as a guide, signal or service animal to aid guests with disabilities. Guests escorted by service animals may not take up any additional seats unless a ticket has been purchased for the adjacent seat, but may purchase accessible seating.
Assisted listening devices
Assisted listening devices are available on the street level concourse outside PORTAL 10 and on the upper concourse outside PORTAL 67. The devices operate on an FM system. Guests wishing to check out a device must leave a driver's license or credit card, which will be returned upon receipt of the device in the same condition. Devices are distributed on a first-come, first-served basis and are provided free of charge.
Bag policy
Little Caesars Arena prohibits items such as bags, backpacks and briefcases larger than 14" x 14" x 6" from entering the arena. Hard-sided bags of any kind are also prohibited. Diaper bags and medical bags are permitted.
All persons and bags exiting or entering the arena will be subject to inspection.
To review the full Little Caesars Arena Bag Policy, please visit DetroitRedWings.com/BagPolicy.
Bottles and containers
Guests are not permitted to carry bottles or containers into Little Caesars Arena at any time.
Cameras, video cameras and audio recorders
Cameras with detachable lenses under 80MM are allowed into Little Caesars Arena on game days. NO video recorders or flash photography are allowed. Professional cameras are prohibited. Camera policies vary for events, concerts and other shows.
Designated driver program
Fans who sign up to be a Designated Driver during Red Wings games will receive a free small fountain Coke.
Fan/text assist
For non-emergency attention from a Little Caesars Arena staff member, text LCAHELP to 69050. Standard message and data rates may apply.
Lost and found 
Found items are turned into the Guest Services Office outside PORTAL 10 on the street level concourse. Guests may inquire about items at any point during the event. After an event, guests may call the Little Caesars Arena Lost and Found Hotline at 313-471-7460.
Lost or stolen tickets
With the high value of tickets, we recommend they be treated like cash and kept in a secure place. If, despite your best effort to protect them, your tickets are stolen, replacements will be produced only after an official police report is received by the Little Caesars Arena Box Office.
Noise makers
Airhorns, bullhorns, bugles, cowbells or any other type of noisemaker that is deemed offensive or dangerous to guests or players are prohibited. Thundersticks are allowed at Pistons games.
Prohibited items 
Prohibited items at Little Caesars Arena include, but are not limited to, bottles, cans, liquid containers, coolers, outside food and beverages, weapons of any kind, laser light pointers, flagpoles, air horns and umbrellas. To ensure the safety of all fans, any carry-in parcels may be checked by Little Caesars Arena security. 
Tailgating 
Tailgating is prohibited in surrounding parking lots operated by Olympia Development before, during or after games and events at Little Caesars Arena.
RELATED: Little Caesars Arena: See parking maps, inside concourse maps
Little Caesars Arena parking maps, inside concourse maps
Below are maps showing where parking lots will be around the arena, as well as information on arrivals and what items you can bring inside.
Notable features include:
Little Caesars Pizza locations on each floor.

Dearborn Sausage Haus

The Classics, presented by Bell's Brewery

Taqueira, presented by Modelo

Mike's Pizza Bar

Kid Rock's Made in Detroit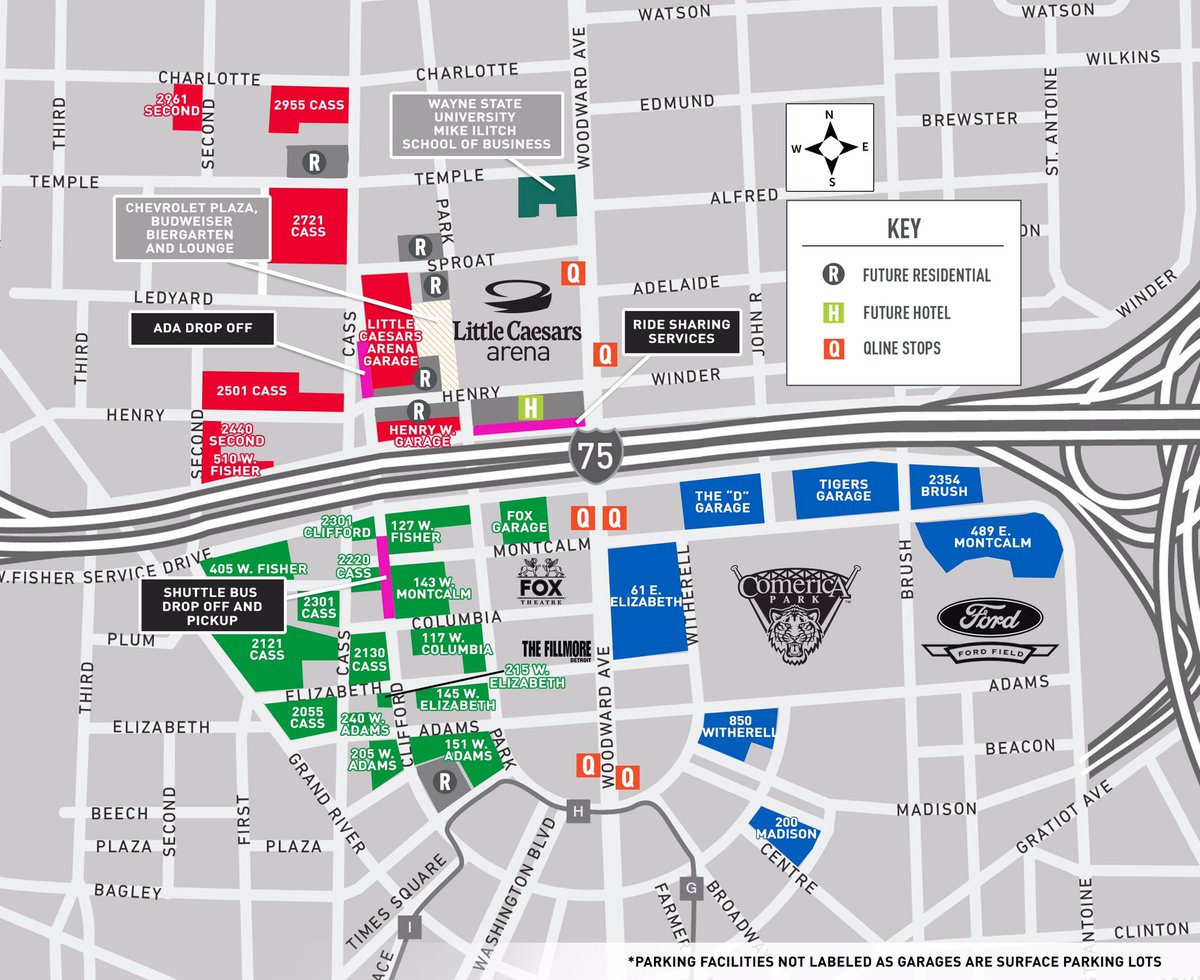 Other notes: 
1. With all the excitement and development in The District Detroit and beyond, there will be noticeable signs of progress – and ongoing construction. Plan to arrive early when attending an event and enjoy one of four Little Caesars Arena restaurants – open on event and non-event days – or any one of the establishments in the area.
2. Pre-paid parking ensures you a spot in the lot or garage of your choice. Check out Ticketmaster.com, Parkwhiz.com or The District Detroit app – soon to be available – to secure your parking before you arrive. Most Olympia Development lots are credit card only.
3. The District Detroit App will be launched prior to the first ticketed event. The App will be the go-to tool for fans visiting Little Caesars Arena and the surrounding area.
4. Ridesharing drop-off and pickup for services such as Uber and Lyft are on the I-75 service drive between Park Street and Woodward Avenue.
How much it'll cost you to see a game, concert at Detroit's Little Caesars Arena
5. For the comfort and safety of our guests, Little Caesars Arena and its surrounding areas are non-smoking and re-entry to the arena after exiting is not allowed.
6. The Little Caesars Arena bag policy allows soft-sided bags and briefcases smaller than 14" x 14" by 6". Diaper bags and medical bags are permitted as well. Hard-sided bags of any kind are prohibited. All persons and bags exiting or entering the arena are subject to inspection.
7. Doors to Little Caesars Arena generally open 1.5 hours prior to start time for Red Wings and Pistons games and will vary for concerts and other shows – check event details for more information.
8. The Little Caesars Arena Via concourse is open to the public on most days. Guests will pass through security screening to enter the facility.
Copyright 2017 by WDIV ClickOnDetroit - All rights reserved.
---
About the Authors: